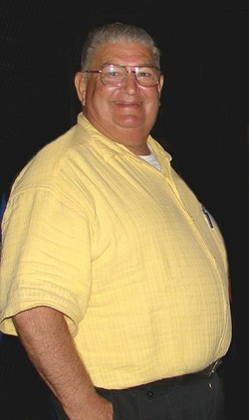 Thomas Allen "Fatback" Jameson, Sr., 73, of California, MD died on November 15, 2015 at Chesapeake Shores Nursing Center in Lexington Park, MD surrounded by his loving family. He was born March 3, 1942 in La Plata, MD to the late Thomas Paul Jameson and Elizabeth Ann Greenwell.

On April 3, 1964 Allen married his beloved wife, Mary Jane Abell at St. John's Regis Catholic Church in Hollywood, MD. Together they celebrated over 51 loving years.

He was employed as a Pipefitter for the Federal Government for 33 years until his retirement in 2005. After retirement, he worked part-time as an attendant at the St. Andrews Landfill.

He was an avid boater, and enjoyed crabbing. He coached and played softball and often went to his grandson's games and tournaments to cheer them on. His other hobbies included shooting pool, duck and rabbit hunting, attending horse races, playing cards, especially poker, and socializing with his many friends. He is a member of the St. Mary's County Softball Hall of Fame. He was an animal lover and enjoyed his dog, Sno-Jo and cat, Missy.

In addition to his beloved wife, Allen is also survived by his children, Thomas Allen "Tommy" Jameson, Jr (Lori) of Leonardtown, MD, Robert Keith "Robbie" Jameson (Tammy) of Hollywood, MD, and Donna Lee "Dee Dee" Gladu (Donald) of Great Mills, MD; his siblings, Beverly Peters (Pete) of Millbury, OH, Freddie Jameson of Ocean City, MD, Judy Jameson of Ocean City, MD, and Sarah "Pinky" Manwiller (Jimmy) of Hollywood, MD; his grandsons, Tyler Allen Gladu of Piney Point, MD, Brady Scott Jameson (Annie) of Leonardtown, MD and Cody Parker Jameson of Leonardtown, MD; his great-grandson, Levi Scott Jameson; and many extended family and friends. In addition to his parents, he is also preceded in death by his step-mother, Marie Jameson.

Family will receive friends on Friday, November 20, 2015 from 5:00 to 8:00 p.m., with a Service of Remembrance at 7:00 p.m., at Brinsfield Funeral Home, 22955 Hollywood Road, Leonardtown, MD 20650. Interment will be private. Memorial Contributions may be made to the Diabetes Association, 1701 North Beauregard Street, Alexandria, VA 22311 and the St. Mary's County Animal Welfare League, P.O. Box 1232, Leonardtown, MD 20650. Arrangements by the Brinsfield Funeral Home, P.A., Leonardtown, MD.