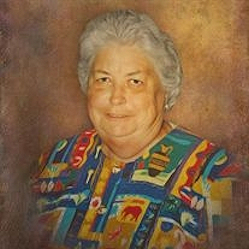 Guelda Kirby Farrall was born on April 30, 1926 in Tobaccoville, NC to Ernest Jennings and Altha Nitus Kirby. She had three siblings, E.J. Kirby, Nan Alice Jefferson, and Audrey Kirby whom are all deceased.

She is also preceded in death by her husbands, Thomas Eugene Earnest, John Junior Duke and Ferdinand Charles Farrall; her step daughter, Charlene Sparrow; and her son, Richard Kirby Earnest.

She is survived by her children, Thomas Eugene Earnest, Sr. (Phyllis), Belinda Sheila Polhemus (John), and Darby Anne Byrd (Kevin); grandchildren, Jason Earnest, Nathan Polhemus, JP Earnest, Zach Earnest, Jeff Earnest, Maggie Earnest, Susan Higgs, and Katie Byrd; and her great grandchildren, Cynthia Higgs, Taylor Higgs, and Billy Higgs.

After high school, she moved to Washington, DC during WWII to work for the Navy as a civilian. She retired after working for the Navy Hydrographic Office at the Defense Mapping Agency for 38 years.

Guelda started her volunteer fire, EMS, and auxiliary career at the Cobb Island Volunteer Fire Department in 1972. She served as Auxiliary President, Vice President, Secretary, Historian and Flag Bearer. She then decided to become an EMT and then CRT. She served as EMS Captain in 1984 and 1989. She received multiple awards for achieving top runner status over the years including Squadman of the Year in 1979. She was awarded life membership in 1989.

She joined the Charles County Mobile Intensive Care Unit in 1979. She held the position of Chief from 1988-1991 and was Medic of the Year from 1985-1991. Their banquet was dedicated to her in 1991 and she was awarded the Henry L. Burke Squadman of the Year in 1989. She is a life member.

Guelda received the Charles County Chamber of Commerce EMS Service Award in 1990. She served as the Charles County EMS Association Communications Board Representative from 1990-1997 and Treasurer in 1989.

She was a Charter and Life member of the Dentsville Volunteer EMS and Auxiliary. She helped organize the grass roots effort that brought an ambulance to the community. She served as Vice President for several years.

She was Past President of the Southern Maryland Volunteer Firemen's Association Ladies Auxiliary in 1982-1983 and was inducted into their Hall of Fame. She was also the first woman to be inducted into the Southern Maryland Volunteer Firemen's Association Hall of Fame.

She has served as Charles County Organizer for the Ladies Auxiliary of the Maryland State Firemen's Association for the past several years. She was inducted into their Hall of Fame in 2011.

Friends received on Sunday, November 8, 2015 from 2-4PM and 6-8PM with Firemen's Prayer Service at 7PM at the La Plata Volunteer Fire Department, 911 Washington Avenue, La Plata, MD 20646 and where a Funeral Service will be held on Monday, November 9, 2015 at 11:30AM. Interment to follow at the Maryland Veterans Cemetery, 11301 Crain Highway, Cheltenham, MD 20623.

Memorial donations in lieu of flowers can be made to the Cobb Island VFD, PO Box 156, Cobb Island, MD 20625, Charles County MICU, 10700 Billingsley Road, White Plains, MD 20695, or Dentsville Volunteer EMS and Auxiliary, PO Box 109, La Plata, MD 20646. Arrangements provided by Raymond Funeral Service.