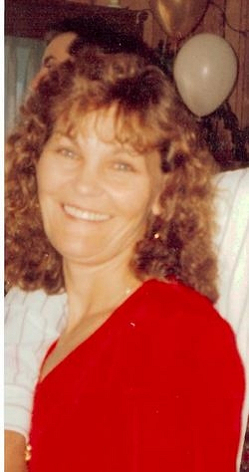 Linda Elizabeth Hanson, 67, of Mechanicsville, passed away on October 31, 2015, after a long battle with cancer at her home in Mechanicsville, MD. Linda was born on December 16, 1947 to the late Rodolph "Rody" Welch and late Jenny Elmore Welch.

Linda was a lifelong resident of Southern Maryland and enjoyed yard sales, watching hummingbirds, gardening and especially her beautiful rose garden. She was a devout catholic and attended Immaculate Conception Church. Linda loved watching EWTN, the Mother Angelica show and praying the rosary. She also enjoyed watching HGTV. She was a devoted wife, mother, grandmother, sister and aunt.

In addition to her parent, she was predeceased by her brother, Paul; a baby girl; and brother-in-law, Mike Hanson.

Linda is survived by her loving husband of 50 years, David Linton Hanson, Sr. for whom she married on May 1, 1965; children, Victoria Sellner (Richard), David Hanson, Jr. (Kammy), Angela Hanson, Amanda Hanson; grandchildren, Richard Sellner, III, (Ashley), Rachel Sellner, Jalisa Thomas (Davey), Hannah Hanson; brothers, Gary Welch (Vern), John Welch (Loretta); sisters, Maryanne Stine (Ray), Edith Davis, Arleen Oliver (Henry), Genevieve Thompson (Tommy), Joan Smythers (Dick), Joyce Oliver (Mike), sister-in-law, Michelle Triplett; brother-in-law, Pat Hanson (Jeannette), Bill Hanson, as well as many nieces and nephews.

Linda was known for her beautiful smile and laugh that would lite up a room. She loved children and staying on the dance floor at weddings and parties, especially dancing to "old time rock and roll". Linda was one of the most kindhearted loving people you had the honor to meet.

The family will host a Life Celebration Visitation for Linda on Thursday, November 5, 2015 at 5-8 pm at Brinsfield-Echols Funeral Home, P.A., 30195 Three Notch Road, Charlotte Hall, MD 20622. A Funeral Service will be held on Friday, November 6, 2015 at 10:00AM at Brinsfield-Echols Funeral Home, P.A. in Charlotte Hall, MD. Interment will follow at St. Mary's Queen of Peace Cemetery, 388885 Dr. Johnson's Road, Mechanicsville, MD 20659. Arrangements provided by Brinsfield-Echols Funeral Home.