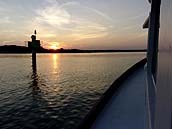 End Your Summer Right with a Sunset Cruise on the Chesapeake Bay
Join Captain Phil for the final sunset cruises of the season on the Chesapeake Bay on Saturday, September 3, 2016. This unforgettable cruise is a great choice for small groups or friends, family or co-workers. Sit back, relax, and enjoy the salty breeze and a little cheer (BYOB) on a 2-hour cruise as the sunset fades over the waters of the Chesapeake. LEARN MORE.
Where are the Fish Biting in the waters around St. Mary's?
Learn the latest on where the fishing is good with our weekly Fishing Report blog, written by Ken Lamb of The Tackle Box. With Trophy Rockfish Season underway, you won't want to miss out on that big catch! Be sure to follow the blog weekly. You can even sign up to get and email alert when the latest post goes live. LEARN MORE.