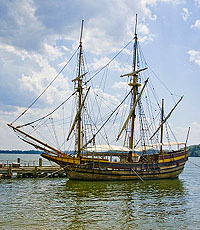 Saturday, October 19, 5pm-8pm
Historic St. Mary's City
On one dark and stormy evening in October, as sailors were readying their berths for the night, the Haunted Ship was severed from its mooring. Lurching out into the rain-soaked darkness, the massive merchant ship was quickly lost to view, never to be seen or heard from again. Since that time, one night every October, the lost sailors stumble through the mist, trying to finally make their way back home — cursed to wander, never to find what has now become the Lost City.
Join us for a trick-or-treating event that will have you weaving through the "lost city" of St. Mary's, and stepping on board the haunted ship (a.k.a. Maryland Dove). Play some games, talk to pirates, and have a spooky time!
For more information, visit the HSMC website.
Visit our Community Calendar and find out what's happening this week!