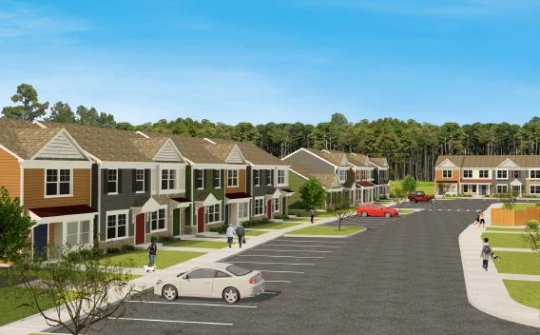 An artist's rendering of the Villas of Lexwood.
HOLLYWOOD, Md.
(July 6, 2023)—A plan to build 40 new townhouses in the Lexwood community off of Great Mills Road in Lexington Park received initial approval last week from the county planning commission.
The vote was unanimous in favor of the decision.
The proposed development, known as the Villas of Lexwood, would be on a little less than four acres in the residential high-density zone, according to county planning documents.
The developer of the project, AYDCO Holdings, LLC, must seek a variance from the county board of appeals, planning documents stated, to reduce the amount of green, open space required by the zoning ordinance.
They must also obtain a variance to reduce the required width of each of the townhouses from 20 feet to 16 feet.
The planning commission placed these as requirements on the developer as conditions for approval as well as the requirement that the developer also obtain a variance to disturb some nearby wetlands, according to county planning documents.
The planning commission also approved an amendment to the county's comprehensive water and sewer plan (CWSP) that would bring water and sewer service to the property where the project is proposed within three to five years instead of six to 10 years as it was previously designated in the plan, county planning documents show.
Those improvements to the land are to be developer financed, planning documents showed.
The local wastewater treatment facility, the Marlay-Taylor water reclamation plant, is currently adequate to provide service to the proposed development, county planning documents state.