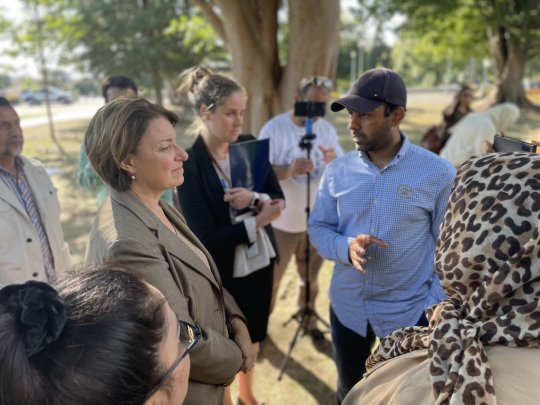 WASHINGTON - Sen. Amy Klobuchar, D-Minnesota, meets with a group of supporters holding a "firewatch" outside the United States Capitol in support of the Afghan Adjustment Act. (Eve Sampson)
WASHINGTON
(September 28, 2022)—For 105 days, beginning in December 2021, Afghan-American Safi Rauf lived in an 8x8-foot cell in Taliban-controlled Afghanistan with few connections to the outside world.
Now, he is running a 24-hour "fireguard" with dozens of other volunteers outside the United States Capitol to raise support for the Afghan Adjustment Act.
The bipartisan bill, introduced in both the House and the Senate, would provide Afghans who worked with the United States during the 20-year war in Afghanistan a clear path to legal residency.
The Afghan Adjustment Act was not included in the stopgap spending bill to fund the federal government after Friday. Supporters hope it will be included in the upcoming defense policy bill or an expected continuing resolution in December.
The Department of Homeland Security reports that approximately 82,000 Afghans have been evacuated to the United States since the 2021 withdrawal from Afghanistan and the Taliban's rise to power.
Most evacuees live in this country under humanitarian parole status, which normally lasts two years. The bill would allow Afghans who pass additional vetting to apply for permanent legal status.
Rauf, a Navy reservist and the founder and president of Human First Coalition, a nonprofit that works to provide humanitarian aid and resettlement assistance to vulnerable Afghans, estimates his organization has evacuated over 10,000 people from Afghanistan in the last year.
The nonprofit chartered several flights after U.S. forces left Afghanistan. But when visiting the country for a planning trip last December, Rauf and his brother, Anees Khalil, who also works for Human First Coalition, were taken hostage by the Taliban and tortured.
"You cannot prepare for something like that," he told Capital News Service. "Every day was incredibly hard. Initially they put us in a basement that was not really fit for living. It was just a basement that did not have any ventilation, any blankets, any mattresses."
Rauf said he and his brother were forced to go a month without showering while wearing the same clothes.
Bathroom breaks were scheduled and supervised and meals scarce—meager portions of tea, rice, beans and bread. Rauf said his captors left the lights on all day. He spent most of his time lying down, marking a calendar he scrawled on the wall.
The brothers eventually attempted multiple hunger strikes to protest their treatment.
Eventually, the U.S. government secured the brothers' release on April 1.
"Our world basically stopped on December 18," Rauf said. "When I got out on April 1st, the world had moved on."
Still, Rauf cannot slow down. He is haunted by the hundreds of calls he still receives from Afghans begging for help.
"I'm still getting chaotic messages from people who are scared for their lives," he said. "The administration is doing their best but how do you work with a de-facto authority that doesn't recognize human rights?"
In folding chairs outside of the Capitol building, former Afghan pilots and parliamentary members are among the volunteers who help themselves to traditional Afghan food while petitioning for the legislation's passage. In front of a folding table with information about the bill, the American flag waves alongside the Afghan flag.
On Thursday evening, Sen. Amy Klobuchar, D-Minnesota, who introduced the bill in the Senate, came out to the lawn for an impromptu visit with the group.
Addressing the volunteers, who included members of the Georgetown Institute for Women, Peace and Security, Women for Afghan Women and various former military members, Kloubacher thanked the group for continuing to campaign for Afghans.
"I thank you for sitting out here on the lawn to remind our colleagues that promises made, promises kept," she said, her hand upon the shoulder of an Afghan woman. "And there (are) promises made to the people who stood on the side of democracy and freedom with our military in Afghanistan."