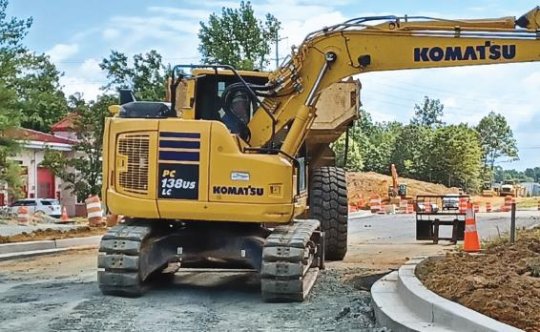 An excavator works on FDR Blvd at Chancellors Run Road and Fire Dept. Lane. Photo: The County Times.
HOLLYWOOD, Md.
(Aug. 18, 2022)—Officials with the county Department of Public Works and Transportation say that the road construction work at the intersection of Chancellors Run Road and Fire Department Lane in Great Mills, including the closing off of a traffic lane, should be completed soon.
It's one more step in completing the next section of the much-awaited FDR Boulevard, said project manager Allen Settle.
The latest span of FDR Boulevard will stretch from Chancellors Run Road to Buck Hewitt Road—it's known as section 3A of the project—for 0.8 miles, Settle told The County Times.
"Now what you see is excavation and grading of the roadway," Settle said, noting that the work at the intersection should be finishing up.
"That work should be completed by the end of next week," he said. "The asphalt for FDR Boulevard and Route 237 should be paved by the end of this week."
This section of the route is the next to last piece to be constructed before the entire length is completed, Settle said.
This section is expected to be completed by May of next year, Settle said, with the advertisement for construction of the next and final section, from Buck Hewitt Road to Pegg Road immediately across from Gate 1 of Patuxent River Naval Air Station next winter.
That last section of FDR Boulevard will be just one mile in length and is expected to begin construction by spring of 2023.
The overall project, which starts back at the intersection of St. Andrews Church Road in California, has been delayed many times over the past several years.
Settle said this latest section has experienced just a few delays due to poor soil conditions or the placement of utilities, but he has been mostly satisfied with the progress there.
"Things are going well so far," Settle said.
FDR Boulevard has long been expected to help provide traffic relief for its parallel Route 235.
For more local stories from the County Times newspapers, visit countytimes.somd.com or find a copy on local news stands.