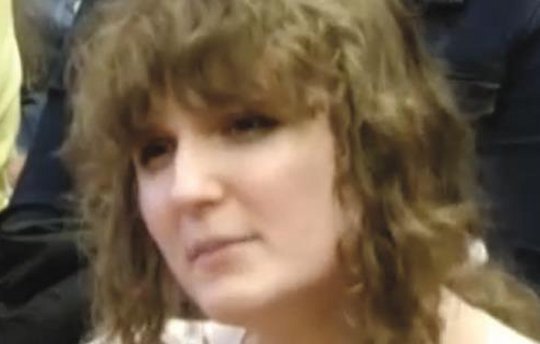 Lexi Allen, a third generation Calvert countian, recounts a life of harassment at the hands of other residents due to being transgender. Three adults allegedly demonstrated that behavior from the overflow room which resulted in them being ejected from the facility. (Photo: Calvert County Times)
HOLLYWOOD, Md.
(March 31, 2022)—The March 24 Calvert County Board of Education meeting included attendees from the LBGTQ student body along with adult supporters. Out of sight of those watching the meeting on live stream was some alleged taunting of those students by several adults in the overflow room set aside for the meeting. Three of those adults were reportedly ejected from the meeting for what they were doing.
During the public comment section of the board meeting, Lexi Allen, a transgender junior from Calvert High School spoke. Allen said, "I was born in this county right down the road, actually. Like most of the people in this room, I love this county. It is and will always be my home. Despite the fact that three generations of my family reside in this county, many make a point to ensure I feel unwelcome."
Allen added, "Isn't part of why we all love this county because of how safe it is, how welcoming it is? When I was 13 years old, an adult man threatened to harm me and my mother. Since I was 12 years old, I faced street harassment to a degree no one should ever have to face. I felt unsafe in the streets of my own hometown."
"I'm sure we can all agree," Allen asserted, "There is no place for any of that in our county. I'll leave you with this. When you see me, do you see a threat to you, to your children? All because I'm transgender."
Also speaking was Derek Diman, a representative of Calvert High School Alliance, a parent group. He said he spoke for those facing "loud and impassioned words fueled by misinformation, inflammatory speech, and hate with a lack of empathy, kindness, and celebration for our community's unique differences."
Regarding the controversy over Critical Race Theory (CRT), he said, "The true concept of CRT is the interaction and intersectionality of race, law and society, which is not taught in the public school system."
Diman said, "I am here today to represent all students of CCPS, to celebrate diversity, inclusion and representation in curriculum resources. While speaking a defense of the aspects of our school's cultures and curriculums that represent what many misguided stakeholders refer to as a broke agenda. Our agenda is clear. We want to provide all students with a safe place to acquire the essential knowledge and skills to develop a healthy identity, cope with stress, manage emotions, and create positive relationships with themselves and the people around them, so they can be happy, healthy, productive citizens in our society."
He added, "Our purpose is not a vessel to push ideological views as many claim it is, nor is it a replacement for traditional education as so many fear that it is. It's supplementary. I love my students and care for them deeply as humans, which is why it breaks my heart to hear so many stories of hardship. Students can't be their truest, most authentic selves at home because of homophobia, transphobia, and an intense fear of being disowned."
"Students feel unsafe in certain classrooms because of teachers in our own system that openly and gleefully mock them," he claimed.
For more local stories from the County Times newspapers, visit countytimes.somd.com or find a copy on local news stands.