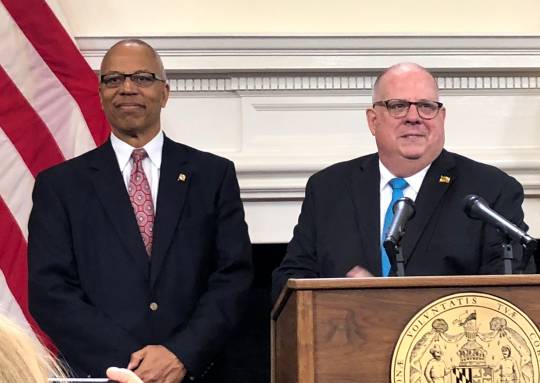 Gov. Larry Hogan --- a day after winning re-election in the Maryland governor's race --- held a celebratory press conference in the Governor's Reception Room of the Maryland State House on Wednesday, Nov. 7, in Annapolis, Maryland. (Photo by Brooks DuBose)
ANNAPOLIS
(November 09, 2018)—A day after winning re-election in the Maryland governor's race, Gov. Larry Hogan held a congratulatory press conference in which he looked ahead to his next four years, and mused on the reasons for his win, including disconnection from the policies of President Donald Trump.
While the governor won a historic victory, becoming the first two-term Republican since 1954 with his victory over Ben Jealous, several members of his party suffered losses elsewhere on the ballot, depleting what was once a strong bench of Republican leaders in the state.
Hogan was not shy in naming the president directly as a reason for his party's losses.
"We had President Trump say the election should be about him even though he's not on the ballot in Maryland and that's exactly what happened," Hogan said.
Three Republican county executive candidates, including Allan Kittleman in Howard County, Steve Schuh in Anne Arundel County and Al Redmer in Baltimore County, all lost to Democrats.
The party added to their supermajority in the House of Delegates, and the "Drive for Five—an initiative to break the Democrats' ability to override any veto that Hogan issues—also failed.
With all precincts in, the GOP appears to have won two of those races—Mary Beth Carozza defeated Jim Mathias in District 38; and Chris West, a Republican, won District 42, a seat previously held by Democrat Jim Brochin, who stepped down.
"It was a repudiation of the president, who lost this state by 30 points," Hogan said. "People came out to express their frustration in him against just about all Republicans … except for us. It was a tough night."
Though Jealous was unsuccessful in unseating Hogan, Fabion Seaton, communications director for the Maryland Democratic Party, said the party still achieved some of its goals of flipping county executive seats and maintaining supermajorities in the General Assembly.
"We said we would turn out 1 million Democrats to the polls, and return turnout to 50 percent, and we did," Fabion wrote in a text message. "While we came up short in our campaign to flip the governorship, Democrats delivered a Blue Wave in federal, state legislative and county offices."
Hogan joked during his victory speech that he was able to surf that blue wave, navigating his first term by "reaching across the aisle."
"I've been saying this for a long time … to those who would take politics to the extremes of either party, I was concerned about the tone, concerned about the negative politics and the divisiveness and I think most people are sick and tired of it," Hogan said.
At Wednesday's press conference, Hogan specifically mentioned Massachusetts Gov. Charlie Baker—another popular Republican in a blue state who won re-election—as an example that moderate governance is an effective strategy.
Todd Eberly, associate professor of political science and coordinator of Public Policy Studies at St. Mary's College of Maryland, told Capital News Service that last night's results—specifically Hogan's and Baker's victories—showed a path forward for Republicans that doesn't involve Trump.
"That's the message," Eberly said, "that there is another track that Republicans can take so the party isn't just surrendered to Donald Trump. Democrats say the only way to stand up to Trump is to leave the Republican Party. Well, that's sort of drastic."
Now that Hogan doesn't have to worry about winning reelection, Hogan is free to criticize Trump as much as he wants, Eberly said.
"For him to have gone all in on criticisms would have risked alienating (Maryland) Republicans," he said. "He's done now. He's free to say what he wants."
During Hogan's four years in office, the state's economy has remained relatively robust, making steady improvement since the 2008 recession, though other states have improved more. The state's budget is also working with a surplus.
When asked if the state's Republican party is in need of self-examination, Hogan said: "There's no question … not just in Maryland, but nationally.
"I think I will be a part of that discussion about how we move forward and maybe be a model for how they might win races and not lose races," Hogan said.
Hogan will become the chair of the National Governors Association in July—which positions him within the party on a national level, he said.
"I'll have a national voice representing all 50 governors," Hogan said, adding that the association will gather soon and he plans to "(teach) them how to be governors."
Hogan said he did not receive a phone call from the White House after he won re-election.
"My feelings aren't hurt," the governor said.