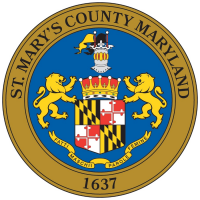 Elections to Conduct Canvass of Ballots
The St. Mary's County Board of Elections will canvass absentee ballots and the provisional ballots on the following dates:
• November 8, 2018 at 10:00 a.m.—Absentee 1 Canvass
• November 14, 2018 at 10:00 a.m.—Provisional Ballot Canvass
• November 16, 2018 at 10:00 a.m.—Absentee 2 Canvass
• December 6, 2018 at 10:00 a.m.—Post Certification Canvass
Absentee and Provisional canvassing will be held at the St. Mary's County Election Board warehouse, 47382 Lincoln Avenue, Lexington Park, MD 20653 (old carver elementary school). The post certification canvass will take place at the Election Office, 41650 Tudor Hall Road, Leonardtown, MD 20650.
Please contact Wendy Adkins at 301-475-4200, ext. *1613 with questions.
Public Invited to Learn About Lexington Park Opportunity Zone
The St. Mary's County Department of Economic Development will host a public information session on Thursday November 8, from 10 a.m. until noon, regarding a new, federally designated Opportunity Zone in Lexington Park. The meeting will be held at Precise Systems' Curtiss Room, 22290 Exploration Drive, Suite 300, in Lexington Park.
Frank Dickson, Director of Strategic Business Initiatives at the Maryland Department of Housing and Community Development, will present the benefits of Opportunity Zones and the various ways individuals, property owners and businesses can benefit. Attendees will learn, ask questions and sign up for private meetings with the Department of Economic Development.
Opportunity Zones (O-Zones) were created as part of the Tax Cuts and Jobs Act in 2017. Designed to bring new investment to economically-distressed areas, the first set of O-Zones was federally designated in April 2018. St. Mary's County is home to one O-Zone in the Lexington Park Development District. The O-Zone encompasses an area from Buck Hewitt Road in the north to Chancellor's Run Road and Great Mills Road, between Three Notch Road and Forest Run Drive in the south. A link to the State-wide map of O-Zones is available at
bit.ly/2F2ttC5
The O-Zones program provides tax benefits to investors who experience a capital gain and invest the capital gain in an O-Zone. Three tiers of benefits are available based on the duration of the investment. The purpose of the meeting is to provide property owners, local business, real estate professionals, bankers and residents with awareness and knowledge about the program.
St. Mary's County has an opportunity to attract investment dollars into Lexington Park. The County's Strategic Plan to Build an Innovation-Driven Economy names the development of walkable, mixed-use town centers as crucial to economic diversification and workforce attraction and retention. Popular with younger workers and baby boomers alike, these locales offer opportunities to walk around and gathering places to connect with others along with shops and cultural experiences. Lexington Park, near the county's geographic center and employment center, is a key growth area as part of the strategy.
To learn more about Opportunity Zones log on to:
www.stmarysmd.com/ded/opportunityzone/
Recreation and Parks Promotes Safety in Youth Sports
An online resource now available for parents
Are Your Kids Safe While Playing Youth Sports? There is a new tool to help you find out. An informational campaign educating parents on the importance of youth coach verification has launched. New signs have been installed in 6 parks encouraging parents to confirm the eligibility of their child's coach.
The signs include the statement "Is Your Coach On the List?" They also provide the Recreation & Parks website and QR code. The code allows parents to research the qualified coaches list from a mobile device.
All youth sports league coaches and league representatives must pass a background check, complete concussion awareness training and adhere to a code of conduct in order to coach in St. Mary's County. They are then placed on the qualified coaches list available for viewing.
"We are excited about this new option which helps ensure all athletes are being coached by qualified volunteers," said Arthur Shepherd, Recreation and Parks Director
To view the current list of qualified coaches go to:
www.stmarysmd.com/recreate/communitystandards
Additional signs are scheduled to be placed by Fall 2019.
Tashima Reese Named PIO Communications Coordinator
Tashima Reese has been selected as Communications Coordinator in the Public Information Office. She officially joins the PIO team on November 5.
Mrs. Reese comes to the Public Information Office with a wide range of professional communications experience. Most recently she has served as Communications Manager and acting Administrative Assistant at By Faith Christian Center in Waldorf. Prior to that, she was a Communications Specialist with the Charles Crossing Homeowners Association and Communications Director for the City of Baltimore Employees and Elected Officials Retirement System. She has also served as a writer for College Lifestyles in State College, PA.
Mrs. Reese earned her Bachelor's degree in Journalism from Penn State University.
"I welcome Tashima to the PIO team," said Tony Jones, Communications Director. "Her experience will prove to be a tremendous asset as we look to take our communications and outreach efforts to new heights in 2019 and beyond."
Mrs. Reese lives in La Plata.
OPEB and LOSAP Meeting Date Change
The meeting date for Other Post Employment Benefits (OPEB) Trust and Length of Service Award Program (LOSAP) Trust has been changed from November 2 to November 30.
The meetings will take place back to back with the OPEB Trust meeting taking place from 9:30—10:30 a.m. The LOSAP Trust meeting will follow, from 10:30 a.m.–noon.
St. Clement's Island Museum and Piney Point Lighthouse Museum to Join Sites Nationwide in "Bells of Peace" Nationwide Bell-Tolling
In Remembrance of World War I Armistice centennial
The bells at St. Clement's Island Museum and Piney Point Lighthouse Museum, historic sites overseen by the St. Mary's County Museum Division, will toll on November 11, at 11 a.m. in honor of the 116,516 Americans, including the 27 St. Mary's County natives, who died in World War I.
The program, BELLS OF PEACE: A WORLD WAR ONE REMEMBRANCE, is a collaborative program announced by the World War One Centennial Commission in coordination with the Pritzker Military Museum & Library, the Society of the Honor Guard of the Tomb of the Unknown Soldier, the American Legion and the Veterans of Foreign Wars. American citizens and organizations across the entire country are invited to toll bells in their communities twenty-one times on Sunday, November 11, at 11:00 a.m.
Conceived in collaboration with the nation's veterans of service and the Honor Guard at the Tomb of the Unknown Soldier, the bell tolling provides a solemn reminder of the sacrifice and service of veterans of World War I and all veterans. Bells will be tolled in communities across the nation, in places of worship, schools, town halls, public carillons and cemeteries, to mark the centennial of the Armistice which brought an end to hostilities in what Americans fervently hoped had been "The War to End All Wars."
The nationwide program is designed to honor American men and women who served one hundred years ago, during World War One. The war ended by an armistice agreement between the warring countries at 11 a.m. on November 11, 1918. World War One took place between July 1914 and November 1918 and was one of the deadliest conflicts in world history. Over nine million combatants and seven million civilians died as a result of the war. The United States officially entered the war on April 6, 1917. Some 4.7 million Americans stepped forward to serve in uniform during the war, 2 million of them were deployed overseas to fight and 116,516 of them never made it home.
The U.S. World War One Centennial Commission was established by Congress in 2013 to provide education programs, public outreach and commemorative events regarding the American involvement in the war. The Centennial Commission was also authorized by Congress to create a new national-level memorial in the nation's capital, to honor the men and women who served.
Information on the new National World War One Memorial can be found at
www.ww1cc.org/memorial