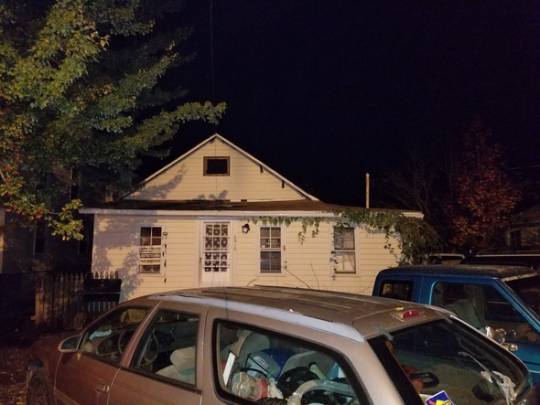 One person died in a fire Thursday evening in this one story single family dwelling located at 8916 Erie Avenue in North Beach. (Photo: Md. State Fire Marshals)
NORTH BEACH, Md.
(November 02, 2018)—Deputy State Fire Marshals are conducting an origin and cause investigation of a fatal fire that occurred Thursday evening in a one story single family dwelling located at 8916 Erie Avenue in North Beach. The property is owned by Reba Childs. However, the house was a rental and there were two occupants living at the residence.
The 911 call was received at approximately 6:05 p.m. from a passerby who discovered the fire. North Beach Volunteer Fire Department responded to the one alarm fire with with approximately 45 fire personnel from surrounding Departments. It took firefighters approximately 15 minutes to control the fire.
The damage caused approximately $70,000 to the structure and approximately $15,000 to the contents.
Once the fire was extinguished they found a deceased adult male occupant in the residence.
It is unknown if the smoke alarms were working at the time of the fire. The area of origin is in the kitchen and the cause is currently under investigation.
The victim was transported to the Office of the Chief Medical Examiner in Baltimore for an autopsy to determine the exact cause of death. The victim's name is not being released at this time pending identification and notification.
The Calvert County Sheriff's Office Criminal Investigation's Division is assisting with the investigation. The Red Cross is assisting the additional occupant.
This is all the information available at this time. Additional information will be released once it becomes available.