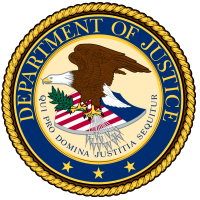 GREENBELT, Md.
(October 11, 2018)—A federal grand jury has indicted Levy Steven Moore, age 48, of Pollocksville, North Carolina, on the federal charge of murder resulting from using, carrying, brandishing, and discharging a firearm during and in relation to a crime of violence. The indictment was returned on August 27, 2018, and unsealed at Moore's initial appearance today.
The indictment was announced by United States Attorney for the District of Maryland Robert K. Hur; Special Agent in Charge Gordon B. Johnson of the Federal Bureau of Investigation, Baltimore Field Office; Chief Henry P. Stawinski III of the Prince George's County Police Department; and Prince George's County Sheriff Melvin C. High.
According to the indictment, on October 25, 2002, Moore and at least one other accomplice planned to rob the victim employee of the cash belonging to the business. The victim employee made a cash deposit of business funds and obtained money to be used in the operation of the business at a bank in Capitol Heights, Maryland. The indictment alleges that as the victim was returning to the car with a money bag containing the business' funds, Moore robbed the victim of the money and shot the victim, who collapsed to the ground. The indictment alleges that Moore then got into the getaway vehicle driven by his accomplice. According to the indictment, while fleeing the scene the robbers struck the victim's vehicle, ran over the victim, and left the victim lying in the bank parking lot.
If convicted, Moore faces a maximum sentence of death. The Attorney General will determine whether or not to seek the death penalty. Moore had his initial appearance in U.S. District Court in Greenbelt, before U.S. Magistrate Judge Charles B. Day today. Moore will complete his state sentence in North Carolina on unrelated charges, before returning to Maryland.
An indictment is not a finding of guilt. An individual charged by indictment is presumed innocent unless and until proven guilty at some later criminal proceedings.
United States Attorney Robert K. Hur commended the FBI, the Prince George's County Police Department, and the Prince George's County Sheriff's Office for their work in the investigation. Mr. Hur thanked Assistant U.S. Attorneys William D. Moomau and Gregory Bernstein, who are prosecuting the case.