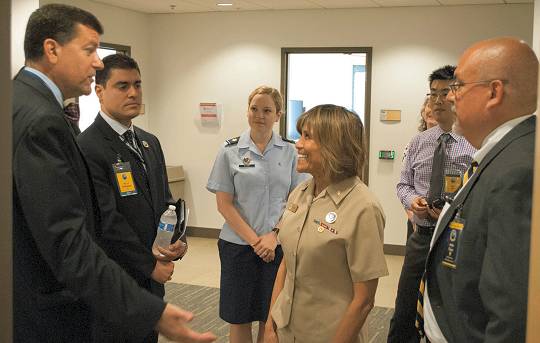 KING GEORGE, Va. (Aug. 29, 2018) --- James Smerchansky, Dr. Luis Rodriguez, Air Force Maj. Amanda Clark, Navy Vice Adm. Raquel Bono, Ray Cho, and John Fiore, left to right, discuss diversity at the first Leadership in a Diverse Environment Conference hosted by Naval Surface Warfare Center Dahlgren Division(NSWCDD). Smerchansky - Naval Sea Systems Command (NAVSEA) executive director - spoke to participants about diversity and inclusion. Bono - director of the Defense Health Agency - briefed on how to "Lead Where You Are to Inspire, Engage, and Innovate". Fiore - NSWCDD technical director - kicked off the two-day event with his opening remarks, and joined NSWCDD Commanding Officer Capt. Godfrey 'Gus' Weekes to encourage participants on the second day with a talk called "Extend the Challenge". The conference featured a wide spectrum of presentations and discussion panels focusing on the challenges and opportunities facing today's leadership. (U.S. Navy photo by Matt Ketner/Released)
KING GEORGE, Va.
(September 10, 2018)—How can one lead effectively in the diverse environment of today's Department of Defense (DoD)?
Is it necessary to be identified as a leader on the organizational chart of a command such as Naval Surface Warfare Center Dahlgren Division (NSWCDD) in order to be a leader?
Such questions—and many others on the challenges and opportunities that diversity presents—were addressed by speakers, experts, and panelists in discussions with participants at the first NSWCDD-sponsored Leadership in a Diverse Environment Conference held at the University of Mary Washington Dahlgren Campus, Aug, 29-30.
"You don't have to be THE leader to be A leader," Susan Mazza, Clarus Consulting Group told military, government, and contractor personnel at the "Leading Made Simple" session—one of several breakout sessions. "Leadership in its most elemental form gives every one of us access to being a leader through our moment-to-moment choices and actions. In fact, it is those choices and actions that, over time, have transformed everyday people into the kinds of leaders who have inspired us in the history books."
The participants—from NSWCDD and other warfare center and military commands—questioned and interacted with panelists and speakers concerning the challenges and opportunities facing today's leadership. New science, technology, engineering, and mathematics (STEM) professionals, journeymen, and supervisors as well as those with decades of civil or military service learned how to use today's tools, with knowledge and insight, to embrace diversity and inclusion as a business imperative.
"To see this in real-time is beyond inspiring," said Candaice Deloach, a software developer and integration lead at NSWCDD. "This shows there are opportunities where we can break barriers no matter the race or gender. Sometimes we just need to see examples to see reflections of ourselves."
Vice Adm. Raquel Bono and Steffanie Easter were the examples that inspired Deloach at the event with a theme conveyed by more than three dozen speakers: "Lead Where You Are."
Bono—the director of the Defense Health Agency—briefed participants on how to "Lead Where You Are to Inspire, Engage, and Innovate" in her keynote speech.
Easter—the director of Navy Staff for the Office of the Chief of Naval Operations—shared her personal and professional experiences and knowledge surrounding diversity, inclusion, leadership, and respect in her presentation on how to "Lead Where You Are in a Diverse Environment."
"Part of being able to be an effective leader is having confidence," said Bono, encouraging participants to focus on their competence—the skills and abilities they bring to the workplace. "Make sure you are the best at what you are doing."
Bono emphasized the importance of being deliberate and methodical as a leader while networking to glean more information and understanding of an issue or subject matter from various viewpoints.
"Competence involves the ability to reach out and get other people's perspectives," said Bono. "Develop your competence and share with others to help them become effective. Deliver in a way to enhance your credibility."
The admiral shared captivating stories about her experiences moving up the ranks in the male-dominated medical field as a surgeon and leader, confronting and overcoming built-in gender biases.
"Time does not create expertise," said Easter, recounting positions she held but did not initially consider herself qualified to hold. "You can lead through influence. You don't have to be the smartest person in the room to lead. I learned to leverage what I have."
The Senior Executive Service (SES) member captivated the audience with anecdotes that included her account of a time she was mistaken for an administrative assistant after joining the SES.
"Treat everybody with respect," she said. "You never know who you're going to be working with. The person you don't speak to today could be the person you need tomorrow."
Easter encouraged participants to make reading, studying, and listening priorities that will expand their influence and strengthen their competence, commitment, and character.
"Influence is getting people to go in the same direction to accomplish what you want," said Easter. "To get people to follow you, they have to believe you know what you're doing. If you don't have people's trust when you lead them, they are not going to give you their best."
Rear Adm. Jon Hill, Missile Defense Agency deputy director, advised the audience to think in terms of relationships in his talk, entitled, "Leveraging Diversity and Inclusion to Engage, Inspire, and Innovate."
"You usually work for more than one person," he pointed out, asking the audience to consider the importance of relationships with their partners and customers.
"Don't think because you're not in a supervisory position, you're not a leader," said Hill, recommending that participants answer a few questions in order to effectively lead from their positions: Where are you in the big picture? How do you prioritize your time? What do you spend your time on?
In his speech on Naval Sea Systems Command (NAVSEA) Diversity and Inclusion, James Smerchansky, NAVSEA executive director, encouraged participants to look at the big picture as they see themselves with a career path within the enterprise.
"Remember we are all in this together," said Smerchansky about NAVSEA's mission to achieve and maintain a 355-ship Navy with a diverse and inclusive workforce. "The foundational element is people who can accomplish the mission. In the meantime, it's necessary to eliminate social pains, and eradicate the concept of insiders and outsiders, which feeds into unconscious bias."
The event was a time of honest self-reflection for speakers and participants.
"I want to warn you that some of the training may make you feel uneasy, some may contain difficult conversations," said Shellie Clift, the conference chairperson. "Don't back away from those moments—for it is in those types of moments that we truly learn and grow. So, I encourage you to fully participate in the next two days. Now to the challenges."
The challenges and opportunities were discussed by speakers, panelists, and participants throughout the event. Breakout sessions challenged participants with subjects such as: "Becoming Full Inclusion Partners and Advocates," "Inclusion for Innovation," "Science of Self-Defeat, Multicultural Diversity, and Inclusion," and "Sticking Points: Leveraging Generational Diversity."
"We designed this experience to elevate your ability to lead a diverse, innovative workforce," said John Fiore, NSWCDD technical director. "It does not matter what your position title is—we are all leaders. We have many leadership initiatives in the works and we're looking forward to seeing the evolution beyond this training to what will impact our workforce and warfighters for years to come."
The Department of the Navy's Diversity and Inclusion Roadmap states that it's necessary to attract, retain, and develop an agile, trained, and educated workforce to maintain maritime superiority and dominance on the battlefield.
"People are our greatest asset," said Capt. Godfrey 'Gus' Weekes, NSWCDD commanding officer. "To stay competitive in our complex environment, we must maintain an inclusive organizational culture and workplace that appreciates and respects differences. All of our employees throughout the ranks must feel motivated to work at their highest potential and excel. In turn, we will experience greater team-building, decision-making, problem-solving, conflict resolutions, and the freedom to introduce new ideas."
Whether an admiral, member of the SES, or a recent college graduate new to the DoD workforce, all should plan to cultivate relationships and engage their partners, customers, and their co-workers from "where they are" throughout the year to continue the dialogue. At NSWCDD, diversity and inclusion workshops will be scheduled with each department until next year's Leading in a Diverse Environment Conference.