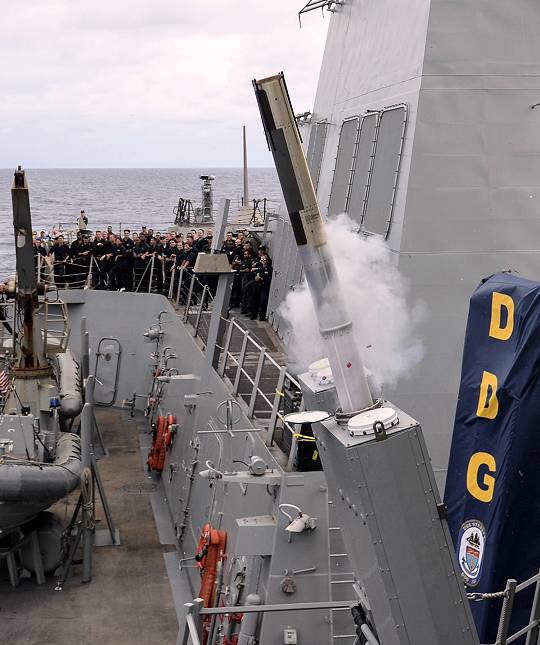 PACIFIC OCEAN (July 12, 2018) – Guided-missile destroyer USS Sterett (DDG 104) launches a Mark (MK) 234 Offboard Active Decoy from a Nulka MK 53 Decoy Launching System during the Rim of the Pacific (RIMPAC) exercise. Twenty-five nations, 46 ships, five submarines, about 200 aircraft, and 25,000 personnel participated in RIMPAC from June 27 to Aug. 2 in and around the Hawaiian Islands and Southern California. The world's largest international maritime exercise, RIMPAC provides a unique training opportunity while fostering and sustaining cooperative relationships among participants critical to ensuring the safety of sea lanes and security of the world's oceans. RIMPAC 2018 is the 26th exercise in the series that began in 1971. (U.S. Navy photo by Mass Communication Specialist 3rd Class Alexander C. Kubitza/Released)
DAHLGREN, Va.
(Sept. 04, 2018)—Australian military officials touring Naval Surface Warfare Center Dahlgren Division (NSWCDD), received briefings on U.S. Navy technical programs ranging from directed energy to human systems integration, Aug. 16.
The NSWCDD visit follows Australia's recent participation with the United States and 23 other countries in Rim of the Pacific (RIMPAC) 2018—a major U.S. Pacific Fleet biennial combined exercise to strengthen international maritime partnerships, enhance interoperability and improve the readiness of participating forces for a wide range of potential operations.
It also comes in the wake of operational and research, development, test and evaluation (RDT&E) efforts that continue to enhance the long history of collaboration between NSWCDD and the Royal Australian Navy (RAN) with their subject matter experts from Defense Science and Technology Group.
At Dahlgren, five RAN officers were briefed on the electromagnetic railgun, the hypervelocity projectile, human systems integration, directed energy weapons, and integrated topside design to further current and future collaborative efforts.
RAN Commodore Peter Leavy, naval attaché to the United States, who led the Australian delegation, emphasized the importance of collaborating early in the RDT&E cycle while requirements are still being defined.
"Working together with our allies during the science and technology as well as the RDT&E phases can lead to many benefits such as program improvements, cost and time savings plus enhanced interoperability," said Jed Ryan, NSWCDD International Partnering Office lead.
Moreover, working together via official conduits can facilitate the creation, development, and eventually, the growth of a technical project into a major program.
Discussions strengthen relationships and increase cooperation with allies to promote more efficient use of defense resources, and these early efforts lead to identifying, developing, and supporting urgently needed military capabilities for U.S. and coalition warfighters.
For example, International Armaments Cooperation efforts between Australia and the United States resulted in a technological capability called Nulka which enabled the two navies to counter the growing threat of radar-guided anti-ship missiles.
Nulka—which means "be quick" in an Australian Aboriginal dialect—is the common name used to refer to the jointly developed Mark (MK) 234 Electronic Decoy Cartridge and the U.S. developed rapid response MK 53 Decoy Launching System. Nulka is capable of providing highly effective defense for ships against modern anti-ship missiles.
Australia developed the hovering rocket while the U.S. developed the electronic payload. Each nation developed its own fire control system.
Nulka can be continually upgraded to protect the U.S. and Australian Fleets as the anti-ship missile threat evolves.
RAN amphibious ship HMAS Canberra tested upgrades to the Nulka anti-ship missile decoy system off the coast of south Australia earlier this year. "During the testing of new components, we aimed to increase the tactical effectiveness of the Nulka against anti-ship missiles," said RAN weapons electrical engineering officer Lt. Cmdr. Mark Williams in the March issue of Naval Technology. "It forms a part of our layered defensive capability in the maritime environment."
In July, guided-missile destroyers USS Dewey (DDG 105) and USS Sterett (DDG 104) launched electronic decoy cartridges from an MK 53 Decoy Launching System while underway during RIMPAC 2018.
NSWCDD engineers developed the Decoy Launch Processor to work with processor power supplies and launchers to achieve tactical effectiveness. The Decoy Launch Processor computes a tactical solution based on information available from the SLQ-32 electronic warfare system to detect an attacking missile. It also utilizes the ship's orientation and wind speed information to program the round for launch.
Under another exchange arrangement, the Engineer and Scientist Exchange Program—NSWCDD recently hosted an expert from Australia's Defense Science Technology Group in Human Systems Integration (HSI). The program promotes international cooperation through the exchange of defense scientists and engineers. U.S. military and civilian engineers and scientists utilize the program to take advantage of opportunities to work in allied and friendly countries.
Currently, the collaboration between Australia and NSWCDD is continuing to advance their respective HSI technologies under The Technical Cooperation Program. Dahlgren's HSI science and engineering technical capability investigates tradeoffs among human factors engineering, manpower, personnel, training, survivability, habitability, and occupational health to enhance warfighter capabilities and improve total system performance.