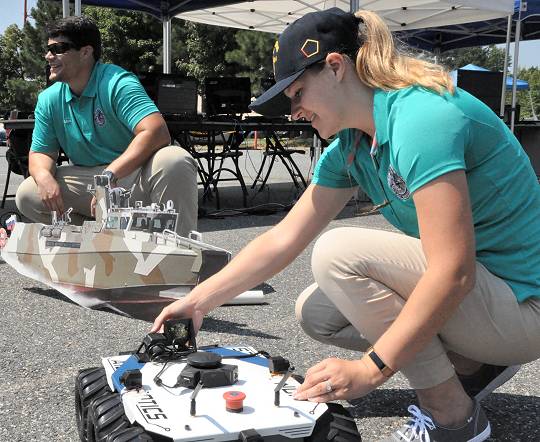 DAHLGREN (Aug. 7, 2018) - The Naval Surface Warfare Center Dahlgren Division (NSWCDD) Sly Fox Mission 23 team in action while demonstrating ARTEMIS - Autonomous Remote Tactical Engagement Multi-Domain Intelligence Swarm - capabilities. Over the past six months, the team used artificial intelligence and machine learning to develop unmanned vehicle swarms that can counteract potential threats of swarming unmanned systems. The Sly Fox program is an NSWCDD Naval Innovative Science and Engineering (NISE) funded rapid prototyping program intended to develop the science and engineering workforce - mostly junior scientists and engineers - while applying their talents to known technology gaps. NISE is part of National Defense Authorization Act Section 219 legislation, allowing warfare centers and research labs to apply money invested in their organizations to research, engineering and technology. NISE efforts have provided breakthrough research and have been responsible for maturation and transition of technology to the warfighter and programs of record.
DAHLGREN, Va.
(Sept. 04, 2018)—What happens when STEM college graduates are tested reality TV style with a situation akin to Survivor, House, The Apprentice, and Shark Tank on a sprawling Naval base on the banks of the Potomac?
The Navy waited patiently for the answer as the stars—within two years of earning their STEM (science, technology, engineering and mathematics) bachelor's degrees—were put to the test over six months.
At first the seven junior scientists and engineers were strangers to each other while put in a room House style with a mission to do what it takes to ensure the survival and success of their Sly Fox Mission 23 team and its mission.
They took time to get to know each other, including their strengths and weaknesses to make an urgent warfighter need for an autonomous swarm capability a reality.
As Mission 23 encountered obstacles, the teammates brainstormed to transform their ideas into a new capability known as the Autonomous Remote Tactical Engagement Multi-Domain Intelligence Swarm (ARTEMIS).
"A major challenge we faced with the mission was going from a UAV (unmanned aerial vehicle) focused project to a UGV (unmanned ground vehicle) focused project," said NSWCDD engineer Philip Costello, recounting the lack of time to meet a sudden requirement related to UAV testing. "That change forced the team to come up with some novel solutions to make the UGVs capable of completing the same mission objectives as the UAVs."
Costello and his teammates persevered through long hours and weekends under high stress while developing the ARTEMIS capability to quickly and effectively search regions of interest to detect enemy targets.
Consequently, the junior scientists and engineers created a monitoring system that tracked the emotional and social well-being of each team member and the team as a whole. Results of the anonymous, daily survey were discussed among the teammates bi-weekly. The team acted precisely and appropriately during high stress periods of the project to keep team chemistry and morale at optimal levels.
"We encountered many obstacles that had the potential to halt our development had we not adapted to overcome the situation," said Costello in terms of the programmatic and technical predicaments. "Rather than completely stop development and re-plan, we would just roll with it and take the resources we had at the time to come up with a solution on the fly."
The solutions continued to enhance ARTEMIS until the final demonstration where Mission 23 members briefed military and civilian technical leaders.
They showed the audience how UGVs, coupled with artificial intelligence and machine language, can carry out missions in tandem with the warfighter. While their use of UGVs met the requirements set forth by Mission 23, the team envisions a more complex system that expands to the aerial domain.
Specifically, UAVs would provide aerial reconnaissance capability and would communicate with the UGVs within the swarm to deliver situational awareness to the system operator. Collectively, the UAVs and UGVs would be capable of surveying a larger region of interest with greater efficiency. UAVs would scan a region from the sky and relay target locations to the UGVs. The UGVs would then vector to the location provided by the UAVs to detect the target and notify the operator of confirmed target locations.
"As more world powers continue research and development of unmanned systems and swarm behaviors, warfare will become significantly more autonomous and swarm versus swarm oriented," the team predicts in the Sly Fox Mission 23 brochure they wrote and published. "Components of ARTEMIS serve as a proof of concept for the use of artificial intelligence and machine learning in reconnaissance and combat."
What's more, ARTEMIS is scalable. The machine learning algorithms used for the UGV swarm can be applied to more robust and Navy-specific scenarios.
"In the future, the Navy will use machine learning and artificial intelligence in multi-domain swarms that feature unmanned ground, aerial, surface, and underwater vehicles," the team states in their brochure provided to NSWCDD colleagues and invited DoD officials.
As the young scientists and engineers defined and built this capability, they learned how critical networking, procurement, and acquisition are to making an idea a technological capability for the warfighter.
"I was interested in the unmanned systems and artificial intelligence components of Mission 23," said NSWCDD engineer Ryan Munz, who discovered that the ability to request transportation and purchase items through the procurement process is crucial to a successful technical program.
"Learning about the different stages of acquisition in PDFs is not the same as actually practicing the acquisition process," Munz explained. "Sly Fox helped me get very familiar with the engineering process, the acquisition process, and the Dahlgren base with its people, which will help me perform my job better."
After Mission 23 concluded, team members went back to their respective positions supporting various Navy technological programs with new knowledge and experience impacting their careers—and the warfighter.
"I obtained several new skills and was exposed to countless brilliant scientists and engineers due to the nature of the program," said Melissa Markle, an NSWCDD environmental geologist. "I developed a deeper understanding of mechanical and electrical prototyping, Navy acquisition, risk management, and aspects of program management. My team is stellar. Individually, we are bright, young scientists and engineers. Collectively, we have overcome extraordinary feats and have become inseparable along the way. There is no doubt in my mind that I will carry my Sly Fox experience through the rest of my life, both professionally and personally."
"I had to read scientific and academic papers while taking online classes and networking throughout the command to gather the knowledge necessary to build a successful mission," said Luis Valcourt-Colon, an NSWCDD software programmer without experience in artificial intelligence, machine learning, implementations, or algorithms prior to the mission. "I was obligated to push myself until everything was executed completely and merged for mission success. All the knowledge, sacrifices, networking, and experience is invaluable, and I believe Sly Fox is the best opportunity out there for a young professional to grow here at Dahlgren."
"Sly Fox became my home, the team became my family, and the mission challenged me to learn things I never thought I would learn, speak to people I never thought I would meet, and acquire an understanding of the entire systems engineering process in a way that I do not think any other program can provide," said NSWCDD engineer Conrad Brown. "Sly Fox is an incredibly dynamic environment. Seven junior engineers who have different skills and interests work together on a predominantly self-managed project. Each team has to overcome programmatic and technical challenges in a way that is totally unique to Sly Fox, however, the skills one acquires during this program are applicable and absolutely necessary in every engineering project."
Throughout their collaboration and challenges to create ARTEMIS, mentors from previous Sly Fox missions advised and encouraged the team.
"I am impressed with the dedication of our newly hired engineers, scientists, and mathematicians," said Albert DeJean, senior mentor of every Sly Fox mission. "The demonstration shows what the team accomplished during their time on this mission. What is not seen is the maturity and dedication of these engineers, scientists, and mathematicians. Their tenure on Sly Fox has provided them with a confidence that they can take on significant challenge and succeed, and I believe they have matured beyond their peers."