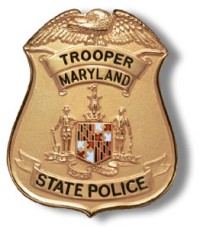 PRINCE FREDERICK, Md.
(Sept. 04, 2018)—The Prince Frederick Barrack of the Maryland State Police (MSP) today released the following incident and arrest reports.
THEFT OF REGISTRATION PLATE: On 8/27/2018 at 9:57 am, Trooper First Class Kaitz stopped a vehicle on Rt. 260 and Cedar Run Lane in Dunkirk for traffic violations. Investigation revealed while the vehicle was at a local auto repair business in Dunkirk for repair work, the front registration plate had been removed. The Maryland registration plate #56419CE was entered in METERS/NCIC.
THEFT OF REGISTRATION PLATE: On 8/31/2018 at 12:57 pm, F/Sgt. Roach received a report of a stolen rear registration plate. The victim reported the rear registration on a GRUB trailer had been taken while the trailer was parked in the Prince Frederick Shopping Center. Suspect(s) used a pair of pliers and a screwdriver to remove the tag. The registration plate #232245X has been entered in METERS/NCIC.
POSSESSION OF MARIJUANA: On 9/2/2018 at 4:06 pm, Trooper First Class Davis stopped a vehicle on Rt. 4 near Old Town Rd. in Huntingtown for traffic violations. While speaking with the driver, the odor of raw marijuana was emitting from inside of the vehicle. A probable cause search revealed a large amount of marijuana.
Joseph D. Brooks, 20, of Prince Frederick
, was arrested and incarcerated at the Calvert County Detention Center.
ILLEGAL DUMPING / LITTERING LESS THAN 100 POUNDS: On 9/3/2018 at 10:14 am, Trooper First Class Matthews responded to the 5000 block of Hardesty Road in Sunderland for a report of littering. Several items were observed on the side of the road in front of property in the 4500 block of Hardesty Road that is owned by the complainant. Items were checked to try to identify the person who had dumped the items but was unsuccessful. Investigation continues.
DUI Arrests
Allison L. Hartman, 19, of Lusby, arrested on 08/28/2018 @ 02:19 am by TFC N. Rucker
Nicholas J. Tomlinson, 21, of St. Leonard, arrested on 08/29/2018 @ 08:24 am by TFC J. Harrod
John B. Miller, Jr., 61, of Lusby, arrested on 09/01/2018 @ 10:13 pm by TFC T. Davis
Michael S. Edwards, 51, of Millersville, arrested on 09/02/2018 @ 12:00 am by TFC P. Kaitz.
Paul C. Johnson, 22, of Mechanicsville, arrested on 09/03/2018 @ 12:14 am by TPR. R. Backus
For the current list of crime solvers cases in southern Maryland, see so.md/mostwanted
Disclaimer: In the U.S.A., all persons accused of a crime by the State are presumed to be innocent until proven guilty in a court of law. See: so.md/presumed-innocence. Additionally, all of the information provided above is solely from the perspective of the respective law enforcement agency and does not provide any direct input from the accused or persons otherwise mentioned. You can find additional information about the case by searching the Maryland Judiciary Case Search Database using the accused's name and date of birth. The database is online at so.md/mdcasesearch . Persons named who have been found innocent or not guilty of all charges in the respective case, and/or have had the case ordered expunged by the court can have their name, age, and city redacted by following the process defined at so.md/expungeme.