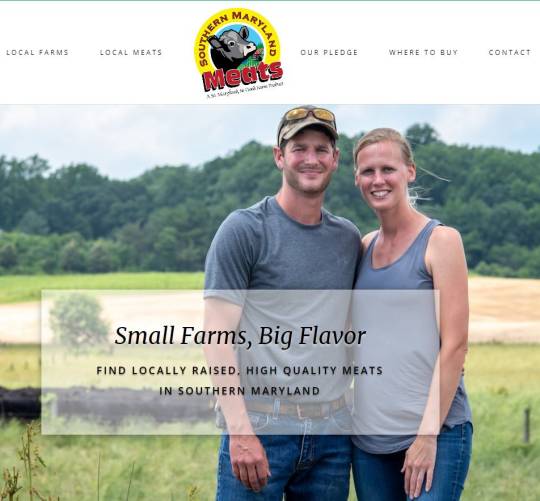 The Fry Family (Matt and Megan), Maryland Sunrise Farm, Anne Arundel County.
HUGHESVILLE, Md.
(August 28, 2018)—The Southern Maryland Agricultural Development Commission announced the launch of the redesigned and updated Southern Maryland Meats website.
The newly presented website at southernmarylandmeats.com is a dynamic 'virtual' display case featuring forty-eight regional livestock producers of locally raised quality meats. All producers represented on the website are participants in the Southern Maryland Meats (SMM) marketing and branding program, developed by SMADC to raise consumer awareness for the availability and the benefits of local farm-raised meats and increase potential for retail sales for Southern Maryland's meat producing farms.
The website's user friendly format allows consumers to easily search for farms in their area by county, type of meat, and also retail venues (stores and farm markets) that carry SMM products. Vibrant photo-portraits by Lena McBean of Edwin Remsberg Photography (renowned for their agricultural photo-journalism), illustrate each business description with an intimate view of the SMM farms, the faces and the families who own and operate them.
Farm profiles also provide contact information, hours of operation, direct links to producer's websites and Facebook pages plus a full disclosure of the farm's raising practices, cuts offered, as well as processed meat products such as bacon, sausage, hams, jerky and more.
"By connecting the consumer and the retailers with their farmer, we can drive a positive economic impact and bring a whole new level of prosperity to the Southern Maryland meat industry", commented Craig Sewell the SMM program Livestock and Marketing Specialist. "Southern Maryland residents are well-served by these local meat producers. Their products are worth a visit to the SMM website and the trip to the farm to buy them."
Southern Maryland Meats' product lines include beef, pork, poultry, lamb, goat, and rabbit. Producers raise, feed and finish their animals according to their preference, however, to participate in the SMM program, farmers agree to uphold strict SMM quality and raising standards to ensure the integrity of meat products marketed under the SMM brand. For more information on where to find participating SMM farms and full program details, visit
southernmarylandmeats.com.