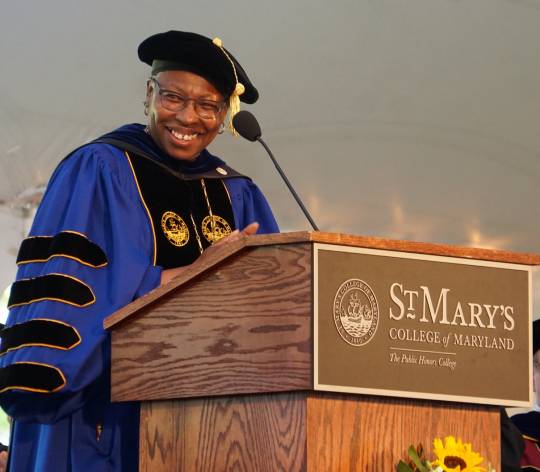 Tuajuanda Jordan, the college's president, at the 2018 commencement ceremony in St. Mary's City. (Photo: SMCM)
HOLLYWOOD, Md.
(August 16, 2018)—The leadership at St. Mary's College of Maryland has brought in an independent investigator from the state to look into allegations of impropriety against Tuajuanda Jordan, the college's president.
The County Times confirmed the investigation was continuing from a source within the college with deep knowledge of the investigation.
The source spoke on condition of anonymity.
College spokesperson Michael Bruckler, said in a statement that an investigation was underway but would not say at whom the investigation was aimed or what allegations had been made.
"The College is investigating allegations by two former employees," said Bruckler in a prepared statement. "In accordance with our policies, we take any such allegations seriously and will respond appropriately."
The County Times began making inquiries into the investigation after it re-ceived an anonymous e-mail accusing Jordan of berating college employees and using staff members to run personal errands for her.
The author of the anonymous e-mail stated their complaints had also been sent to members of the college's Board of Trustees.
The same highly placed source who spoke on condition of anonymity confirmed that certain trustees had received the e-mail and that the allegations contained therein matched up with formal complaints from an employee who was dismissed from the college.
The source said one likely reason for the allegations was in retribution against Jordan.
The anonymous source who spoke to the college said the allegations have yet to be substantiated.
The anonymous accuser stated in the e-mail that they had withheld their name for fear of retaliation.
"Individuals that have spoken up have experienced retaliation," the accuser stated in their missive. "Dr. Jordan has been using her staff to transport her sister, who is not a college employee, to the metro station on a regular basis.
"This has been going on for many months. Also, for many months, when there has been a catered meal at her home, she included a meal for her sister and other family which the college paid for."
The missive continued by alleging Jordan had college staff take time away from their duties to run other personal errands on her behalf.
"There is misuse of college employees by sending them to her home and having them stay there while contractors are there doing work at her house," the missive alleges. "All of these things have been taking place during business hours when employees should be on campus doing their jobs. All of these are examples of personal business that is being funded by college and state money."
The source at the college said the investigation started only recently but should be concluded by the end of August.
For more local stories from the County Times newspapers, visit countytimes.somd.com or find a copy on local news stands.