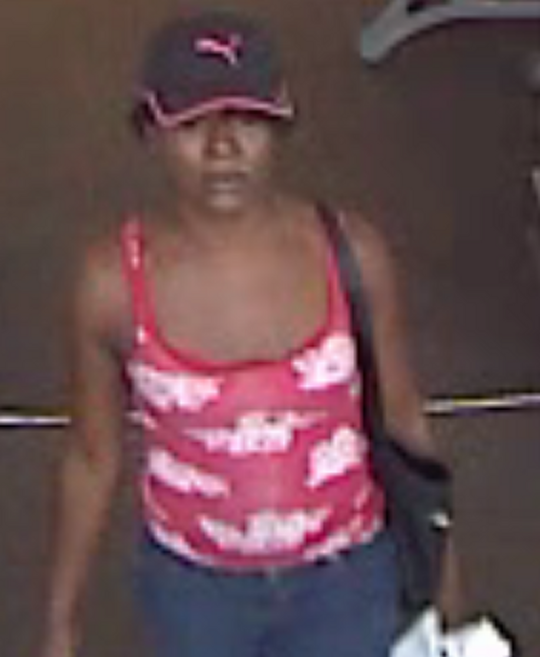 Police are seeking the identity of this woman who used a stolen credit card to make several purchases.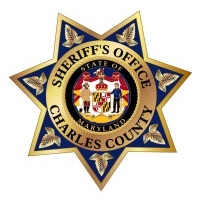 LA PLATA, Md.
(August 17, 2018)—The Charles County Sheriff's Office released the following incident and arrest reports.
DETECTIVES SEEK IDENTITY OF WOMAN USING STOLEN CREDIT CARD: Charles County Sheriff's detectives are seeking the identity of a woman who used a stolen credit card to make several purchases. On July 28, unknown suspect(s) entered an unlocked vehicle in the area of Blackpool Circle in Waldorf and stole a credit card that was inside. The card was used a short time later at three different locations: Waldorf Ultra Fuels, the Waldorf Wal-Mart, and the Brandywine Target. Investigators obtained surveillance footage of the transactions which showed a woman in a tank top and black baseball cap using the card (see attached). Anyone with information about the identity of the woman is asked to call Det. Horrocks at (301) 609-6549. Tipsters wishing to remain anonymous may contact Charles County Crime Solvers at 1-866-411-TIPS. A cash reward of up to $1,000 is being offered if the tip leads to an arrest in the case. The investigation is ongoing.
UPDATE ON ATTEMPTED MURDER / SUICIDE: Detectives have identified the suspect in the attempted murder on Gallery Place as
Kenneth Everette Barnes, 38, of Waldorf
. On August 9 at 12:30 p.m., Barnes shot the mother of his child multiple times and fled the scene. The victim was flown to a hospital with serious injuries. Officers canvassed the apartment building where the shooting occurred and discovered Barnes in the stairwell; he was deceased from a self-inflicted gunshot wound. A gun was recovered beside him. The victim's condition has improved and her injuries are not life threatening. Det. J. Elliott is investigating.
DESTRUCTION OF PROPERTY: On August 10 at 10:07 a.m., officers responded to the 11000 block of Greenwood Court in Waldorf for a residential alarm. Upon arrival, officers observed the glass on a basement door had been shattered. Cpl. R. Cuyler and her K9 partner responded and searched the house. No one was inside. Officers recovered surveillance footage from a home security system and discovered a tall male with a muscular build had been knocking on the door minutes to the alarm sounded. He left in a black pick-up truck. PFC I. Bier is investigating.
THEFT FROM AUTO: On August 8 between 8 a.m. – 10 a.m., unknown suspect(s) broke out the window of a car in the 3000 block of Pilgrims Square in Waldorf and stole two handicapped placards. Cpl. J. Foster is investigating.
POSSESSION WITH INTENT TO DISTRIBUTE: On August 7, officers responded to the 2200 block of Old Washington Road in Waldorf to serve an arrest warrant. While serving the warrant, officers observed a large amount of marijuana. A search warrant was obtained, and officers recovered the marijuana and a 9mm handgun.
Preston Eugene Harvey, 20, of Waldorf
, was charged with possession with intent to distribute illegal drugs and illegal possession of a regulated firearm.
SEARCH WARRANT LEADS TO RECOVERY OF ILLEGAL DRUGS: On August 7 at 6:05 a.m., detectives from the CCSO Narcotics Enforcement Section and officers assigned to the Emergency Services Team served a search warrant in the 2300 block of Alava Court in Waldorf. Officers located a quantity of marijuana, heroin, methylenedioxy-methamphetamine (molly), three digital scales, and other distribution-related paraphernalia. More than $8,000 in cash was also located.
Ronald Matthew Tibbs, III, 26, of Waldorf
, was arrested and charged with possession with the intent to distribute marijuana and other related charges.
THEFT SCHEME: On August 5 at 9 p.m., James Travis Breiner, 34, of La Plata, was arrested and charged with theft scheme after his employer witnessed him steal lottery tickets. A preliminary investigation revealed Breiner had been stealing lottery tickets for the last several months with a loss of approximately $10,000. Det. C. Gilroy is investigating.
BURGLARY: Between August 5 – August 6, unknown suspect(s) broke into a house in the 2600 block of Pinewood Drive in Waldorf and stole electronics and other items. It is not clear how entry was made into the house. PFC G. Cook is investigating.
Charles County Crime Solvers offers rewards of up to $1,000 for information that leads to the arrest or indictment of a person responsible for a crime in Charles County. Anyone with information about an unsolved crime or the location of a fugitive may contact Charles County Crime Solvers by calling 1-866-411-TIPS, texting CHARLES + the tip to CRIMES (274637) or submitting tips online at tipsubmit.com. All individuals who provide tips through Crime Solvers will remain anonymous.
For the current list of crime solvers cases in southern Maryland, see so.md/mostwanted
Disclaimer: In the U.S.A., all persons accused of a crime by the State are presumed to be innocent until proven guilty in a court of law. See: so.md/presumed-innocence. Additionally, all of the information provided above is solely from the perspective of the respective law enforcement agency and does not provide any direct input from the accused or persons otherwise mentioned. You can find additional information about the case by searching the Maryland Judiciary Case Search Database using the accused's name and date of birth. The database is online at so.md/mdcasesearch . Persons named who have been found innocent or not guilty of all charges in the respective case, and/or have had the case ordered expunged by the court can have their name, age, and city redacted by following the process defined at so.md/expungeme.