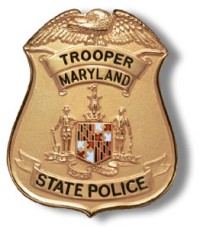 PRINCE FREDERICK, Md.
(August 01, 2018)—The Prince Frederick Barrack of the Maryland State Police (MSP) released the following incident and arrest reports.
DESTRUCTION OF PROPERTY: On 6/13/2018 at 3:41 pm, Trooper First Class Costello responded to Rt. 4 and St. Leonard Rd. in St. Leonard for a reported destruction of property. The victim stated while driving southbound on Rt. 4 the operator of another vehicle preparing to pass, threw an object from their vehicle striking the victim's vehicle and a dent was observed on the vehicle. Investigation revealed
Mark J. Dent, 53, of Prince Frederick
. Charges are pending.
BURGLARY: On 6/14/2018 at 6:09 pm, Trooper First Costello responded to the 200 block of Leason Cove Drive in Lusby for a reported burglary. Unknown suspect(s) entered the home through forced entry while the victims were at work and removed jewelry, cash and numerous firearms. Investigation continues.
DUI Arrests
James E. Rackley, Jr., 52, of Solomons, arrested on 6/12/2018 @ 12:01 am by TFC S. Matthews
Joseph C. Guidotti, 35, of Huntingtown, arrested on 6/14/2018 @ 12:37 am by TPR. R. Backus
Eladio M. Castro, 38, of Pr. Frederick, arrested on 6/15/2018 @ 09:58 pm by TPR. R. Backus
David J. Roan, 50, of California, arrested on 6/15/2018 @ 11:49 pm by TPR. A. Fraser
Kyle E. J. Mishou, 29, of St. Leonard, arrested on 6/17/2018 @ 12:28 am by TPR. A. Fraser
Krystal M. Jones, 32, of Washington, DC arrested on 6/17/2018 @ 11:45 pm by TFC K. Robinson
Erica N. Taylor, 23, of Owings, arrested on 06/23/2018 @ 01:37 am by TPR R. Backus
Jules J. Jordan, 29, of Pr. Frederick, arrested on 06/23/2018 @ 06:13 pm by TFC J. Harrod
Nicholas A. Kriner, 28, of Dunkirk, arrested on 06/23/2018 @ 09:00 pm by TPR K. Stull
Ricardo Diaz Vera, 50, of Huntingtown, arrested on 06/24/2018 @ 05:05 pm by TFC J. Harrod
For the current list of crime solvers cases in southern Maryland, see so.md/mostwanted
Disclaimer: In the U.S.A., all persons accused of a crime by the State are presumed to be innocent until proven guilty in a court of law. See: so.md/presumed-innocence. Additionally, all of the information provided above is solely from the perspective of the respective law enforcement agency and does not provide any direct input from the accused or persons otherwise mentioned. You can find additional information about the case by searching the Maryland Judiciary Case Search Database using the accused's name and date of birth. The database is online at so.md/mdcasesearch . Persons named who have been found innocent or not guilty of all charges in the respective case, and/or have had the case ordered expunged by the court can have their name, age, and city redacted by following the process defined at so.md/expungeme.