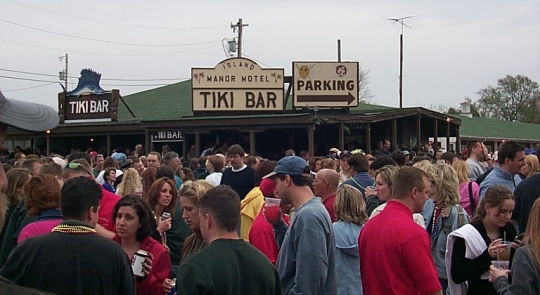 Party-goers at the Tiki Bar in Solomons in 2001. (somd.com file photo)
HOLLYWOOD, Md.
(May 24, 2018)—The Tiki Bar in Solomons Island is officially up for sale after a Calvert County Circuit Court judge ruled against an application for an injunction to hold up the sale.
The sale had been disputed since Patrick Donovan, once a partner and co-owner of the bar with the late Terry Clark, sued for an injunction, claiming he still owned 400 out of 500 shares of the iconic bar.
The defense, representing PT Tiki Inc., put documents into evidence that showed Donovan had agreed to sell his 400 shares back in March 17 of last year and that Donovan was "no longer a stockholder in PT Tiki, Inc."
These documents had Donovan's signature.
One of the defendants in the suit is John Martin IV, who was purported to have a majority control of the establishment.
In his law suit filed in April, Donovan, a California, Md. resident, claims that Martin IV, "is allegedly the primary stockholder of PT Tiki Inc."
Martin's name was added to the liquor license for the Tiki Bar last year by the Calvert County Board of License Commissioners; he was listed as the manager there.
At that meeting it was noted Martin had a 10 percent stake in the ownership.
According to court filings Donovan and Clarke founded PT Tiki, Inc. in 2005, to do business as a bar in Solomons Island.
At that time, Donovan claimed he had 400 shares in the company, which made him the primary stakeholder.
Court filings contend that Donovan and Clarke had many business partnerships.
In Donovan's court filings, he claimed to have never sold his stock, nor given up ownership of the Tiki Bar.
These claims were contradicted by the signed documents entered into evidence at the May 18 court hearing.