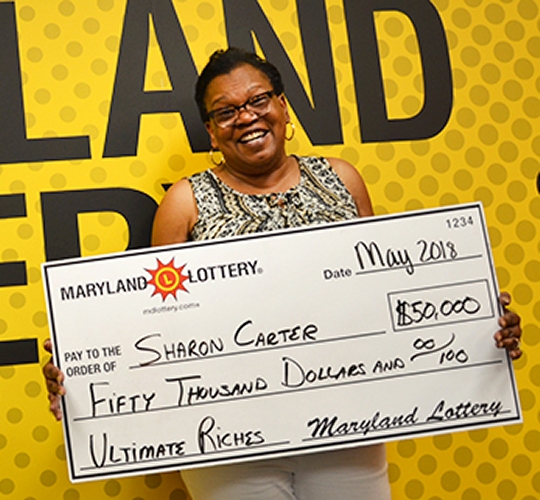 Sharon Carter had an "OMG moment" courtesy of a $50,000 win on an Ultimate Riches scratch-off.
Dramatic reveal ends with game's $50,000 prize
A St. Mary's County woman enjoyed a dose of high drama after playing her Maryland Lottery Ultimate Riches scratch-off. Sharon Carter, a federal student loan employee, found a $50,000 prize on her lucky $20 instant ticket.
Her journey to a big win began at Capt. Sam's in Bushwood. Riding a recent lucky streak and in search of more Lottery fun, Sharon purchased several Ultimate Riches instant tickets at the store. The 56-year-old began scratching them off, savoring the fun of the experience by using her time-tested method for drawing out the drama of revealing a prize.
First, Sharon uncovered the small prize check QR code on each instant ticket. She checked them using the store ticket checker. The scratch-off fan said this routine adds suspense to her play. If the ticket checker tells her that she has won, Sharon then uncovers the rest of the scratch-off and excitedly searches for the amount of her prize. "I enjoy the surprise," she explained.
The message Sharon saw on the ticket checker this time—to claim her prize at Lottery headquarters—was a surprise all by itself. She scratched off the rest of the instant ticket and saw every number matched winning numbers. Sharon hopped in her car for what she described as an "OMG moment" as realization of her $50,000 win sank in.
The lucky player plans to pay off all of her bills with her prize and allocate the remainder to a trip. "Thank you Maryland," she said, excitedly.
Sharon was clearly enjoying the moment as she stepped victoriously into the Winner's Circle at Lottery headquarters. Enjoying the sight of the colorful walls, photos of winners and an oversized check with her name on it, Sharon had a wide smile on her face. "This is the place to be," she said.
Want to see if you can find a winning scratch-off at the site of the latest "OMG moment?" Head to Captain Sam's located at 22664 Colton Point Road in Bushwood. The Ultimate Riches game still has plenty of unclaimed winning scratch-offs carrying prizes ranging from $20 to $1 million.
Charles County woman wins $50,000
A Southern Maryland woman experienced lucky Maryland Lottery numerology last week as three 15s on a 20x the Cash scratch-off gave her a top prize with lots of zeros. The contractor won $50,000!
The 53-year-old purchased the instant ticket when she stopped for fuel at Bryans Road Shell in Charles County. She's been lucky playing the $5 game, which is a member of the Maryland Lottery's Multiplier family of games. She decided to cash a few of her winning instant tickets after filling her tank and purchased another 20x the Cash scratch-off with her proceeds.
When she returned home, the loyal scratch-off player sat down with her 20x the Cash game. She first revealed the winning numbers of 15, 17, 19 and 1. The 15 stood out, she said, because the same number appeared on the lower right corner of the scratch-off. The coincidence grew when she discovered a 15 on the scratch-off and revealed a prize of $50,000!
The lucky windfall will help the winner banish a few bills and boost her savings account.
Also in the money is the Lottery retailer located at 6985 Indian Head Highway in Bryans Road. For selling a top-prize scratch-off in the game, Bryans Road Shell earns a $500 bonus from the Lottery.
The 20x the Cash game still features six top prizes of $50,000 and more than 600,000 prizes ranging from $5 to $5,000. Players can try to win up to $50,000 through the Multiplier Madness second-chance contest by entering non-winning 20x the Cash scratch-offs and other members of the Multiplier family of games into their My Lottery Rewards account.
Waldorf parts specialist wins big in May 9 drawing
A transit system employee awoke to a powerful surprise last week that got him on the move to the Maryland Lottery Winner's Circle. One of his Powerball tickets delivered a $50,000 prize by matching four numbers plus the Powerball in the May 9 drawing.
The 38-year-old Waldorf resident works as a parts specialist for a major transit system. When he isn't working, he occasionally relaxes by playing Powerball. He tries his luck every couple of months, purchasing a $10 ticket with a series of familiar numbers and one randomly selected group of Quick-Pick numbers.
The day after the May 9 drawing, the lucky player realized that he got more than the bit of fun he expects when he takes a chance on the jackpot. The clerk scanned his ticket and returned it to him with a big smile, explaining the winner had to take the ticket to Lottery headquarters to claim his prize.
The Prince George's County man said immediate plans for the prize include paying bills and taking a vacation. A portion of his winnings will go toward a future investment. He is currently studying business and plans to launch a real estate venture.
The happy player found his winning ticket at 7-Eleven #32282 located at 11575 Berry Road in Waldorf.
Engineer claims $50,000 Home Run Riches prize
This past Friday found Bill Stack at Weis Markets in Lusby with plans to cash in a few winning scratch-offs and get one more. That one game, the new Home Run Riches scratch-off, carried $50,000 worth of baseball bucks and gave the 49-year-old a top-prize win.
"I wanted to get a ticket to bring home," Bill told Lottery officials after he and his wife Kim claimed his prize. "We do enjoy them, they're really a form of entertainment for us. I picked out Home Run Riches because I hadn't played it before."
The father of six forgot about the $5 instant ticket as he drove home. Days later, he remembered his baseball-themed purchase.
"The burgers had just gone on the grill when it just popped into my head," said the Calvert County resident. "I got the ticket out of the car, took it inside to my wife and headed back to the yard. She came hurrying out just a few minutes later."
Kim had scratched off the game right away. "The very first part that I scratched showed a $5,000 win. I was stunned," she reported. Without scratching any more of the Home Run Riches instant ticket, Kim rushed to share the good news. As shocked as she, Bill quickly scanned the ticket with his Maryland Lottery smartphone app and got even brighter news. "We didn't win $5,000, we just won $50,000!"
Even with a full two days having passed, the win still doesn't seem real, they said. The $50,000 prize does give Bill and his wife Kim the solution to their longstanding transportation problem. They'll soon shop for a new car! "This is breathing room for us," Bill explained, "a cushion."
his season's Home Run Riches game still has three of its six $50,000 top-prize winners available as well as 11 $5,000 prizes. The green game contains thousands of other prizes, too, ranging from $10 to $1,000. A second-chance contest is also loaded with prizes. Players can enter their non-winning Home Run Riches scratch-offs into My Lottery Rewards for the chance to win $500 instantly as Contestant of the Game and $500 for each home run hit by an Orioles player in their designated game.
The lucky instant ticket made Weis Markets #284 a winner, too. The store located at 210 HG Trueman Road earns a $500 bonus for selling a top-prize scratch-off in the game.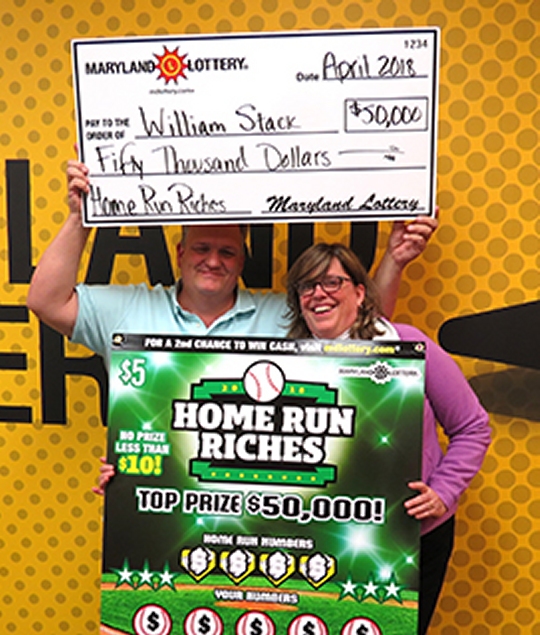 Bill and Kim Stack of Lusby celebrate his $50,000 Home Run Riches scratch-off win.