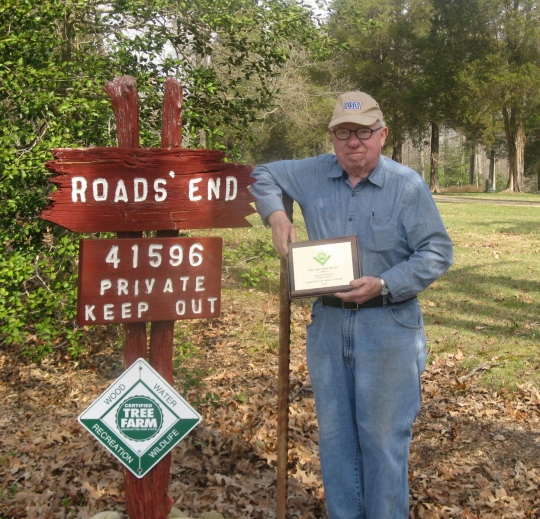 Pictured is Carl Neeley, who was named as the 2018 St. Mary's County Tree Farmer of the Year.
LEONARDTOWN, Md.
(April 16, 2018)—The Maryland Tree Farm Program and the Md. Dept. of Natural Resources Forest Service today announced that Carl and Linda Neeley of Leonardtown have been named the
2018 St. Mary's County Tree Farmer of the Year
. The Neeleys' own 35 acres of woodland and have been a Certified Tree Farm for 19 years. They have owned the property, and had a written forest management plan, for 33 years.
They received recognition for the 29.5 acre selective thinning of hardwoods. The farm is used for other recreation opportunities such as nature trail walking and wildlife viewing. Most of the work is completed by landowner, and the landowner takes great pride in keeping up roads and trails throughout the property for his personal and family recreational opportunities.
The American Tree Farm System is a nationwide program to encourage private forest landowners to do an effective job of growing trees as a crop, with the added benefits of improved wildlife habitat, watershed protection, outdoor recreation and aesthetic value. The first Tree Farm was established in 1941 in Washington State.