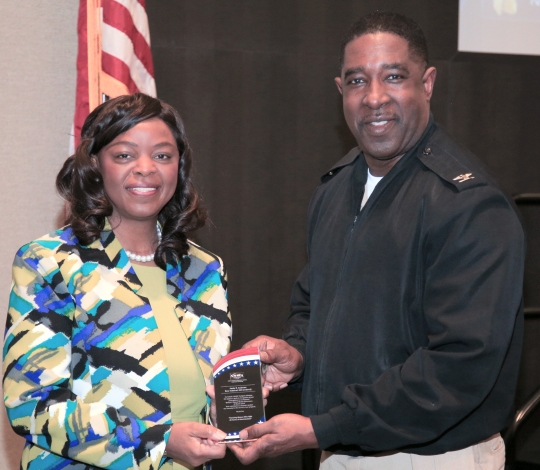 DAHLGREN, Va. (March 28, 2018) --- Capt. Godfrey "Gus" Weekes, Naval Surface Warfare Center Dahlgren Division commanding officer, presents a plaque to Annie Andrews, a retired U.S. Navy rear admiral, after her keynote speech at a Women's History Month observance. Now a top official with the Federal Aviation Administration, she joined the military commands based at Naval Support Facility Dahlgren to celebrate and reflect on the theme "Honoring Women Who Fight All Forms of Discrimination." In her speech, Andrews described characteristics of successful leaders, citing examples of women in leadership who exemplified those traits. "As you continue your vital roles here at Dahlgren and throughout your careers, whether you're in uniform or out of uniform, think about what your legacies will be," said Andrews. "Many of you out there can be recognized and honored just like these pioneer women for breaking down barriers that might be standing in your way." (U.S. Navy photo by Ryan DeShazo/Released)
DAHLGREN, Va.
(April 12, 2018)—Annie Andrews—the third woman to achieve the rank of rear admiral in the U.S. Navy—once encountered a novelty sticker that declared: "Well-behaved women rarely make history."
The sticker is "quite accurate," she told an audience of military, government civilians, defense contractors and visitors celebrating National Women's History Month.
Now a top official with the Federal Aviation Administration, Andrews joined personnel based at Naval Support Facility Dahlgren to reflect on the theme, "Honoring Women Who Fight All Forms of Discrimination."
"Our history is bejeweled with bold and brazen women who have overcome barriers, shattered glass ceilings and shifted paradigms," Andrews recalled at the Naval Surface Warfare Center Dahlgren Division sponsored event held at the University of Mary Washington Dahlgren campus, March 28.
"Across cultures and generations, women have stood up, spoken up, stepped up, stirred up, fallen down, and gotten back up—and they just happened to make history while doing it," said the keynote speaker. "When we're talking about leaders, we're usually thinking about people who have a vision, engage others, take charge, and achieve results. Some might think leadership is simply being the first, biggest, or most powerful, but leadership in an organization has a different and more meaningful definition. Leaders of organizations set the direction in an effort or task, and leadership is the influence they exert to motivate and strengthen achievement in others to move in that direction."
Andrew's remarks focused on leadership as she spoke to several hundred of Dahlgren's current and future leaders throughout her speech, available via video on demand on the NSWCDD internal website to the command's 8,000 government and contractor employees.
"In my view, competent, visionary leaders are the key to overcoming discrimination and injustice in all forms," she stated. "Throughout our history in this country and around the world, women have faced discrimination in many forms. As you know, fighting discrimination takes courage and determination, but to truly have an impact, you have to step forward, take a calculated risk, and be willing to stand up and lead."
Lt. Cmdr. Darlene Iskra—the first female to command a commissioned Navy vessel, the USS Opportune (ARS-41)—"exemplifies courage, determination, and leadership," said Andrews.
"Commander Iskra recognized her role as a pioneer for women in the surface community and understood that she had a responsibility to show that women can lead whenever and wherever they are given the opportunity," said Andrews. "As those opportunities expand, the need increases for women leaders like her so it's important for us to know all the qualities of a good leader."
Andrews—whose Navy service spanned 32 years with 18 moves and 18 different bosses—had the opportunity to examine the characteristics of leaders who were thriving and what they do differently.
"I've also gleaned specific traits and practices that enable me to grow and also hone my own skills," said Andrews. "Leadership traits are not really one-size-fits-all. In fact, research shows that the best leaders tailor their leadership style to situations. Some leadership characteristics, however, are consistent across the board. Leaders understand what needs to be done and motivate others to work towards a common goal."
The retired admiral recalled how Dr. Martin Luther King Jr. described it: "A genuine leader is not a searcher for consensus but a molder of consensus."
To complement her understanding of leadership characteristics from her own experience, Andrews researched data across industries and found that great leaders share seven traits regardless of their styles. "These traits are approachability, courage, integrity, vision, self-awareness, decisiveness, and collaboration," she said. "To me, these traits seem the most important ones that a leader can possess."
Approachability
"Leaders must be approachable and be able to form a deep professional relationship with individuals at any time," said Andrews, citing aviation pioneer Amelia Earhart, the first woman to fly solo across the Atlantic Ocean, as an example of approachability. "She often leveraged her celebrity to help others. She formed an organization for female pilots and worked as an advisor and career counselor to women students at Purdue University."
Courage
"Leaders must be courageous enough to abandon practices that have made them successful in the past," said Andrews, referring to Malala Yousafzai—a young woman who confronted centuries old cultural norms in Pakistan—as an inspiring example of courage. "Great leaders dare to be different. They just don't talk about risk taking, they actually do it. Malala fought for the rights of women to receive an education in an era where the Taliban banned girls from attending school. She became a beacon of hope for women fighting against discrimination in education and her advocacy grew into an international movement."
Yousafzai received multiple death threats by the Taliban and others and in 2012, she was shot in the head by a masked gunman. "Malala overcame her injuries, captured the world's attention, and in 2014, she was awarded the Nobel Peace Prize. At the age of 17, she was the youngest person ever to earn this honor and she is one of only 15 women to receive the prize. She is now attending Oxford University and is still advocating for women's rights."
Integrity
"When Sandra Day O'Connor began her law career, the field of law was almost exclusively for men," said Andrews who considers O'Connor a perfect example of the leadership trait of integrity. "Her first employment after law school was working as a deputy county attorney in California with no paycheck and sharing an office with a secretary. But in 1981, Sandra Day O'Connor overcame discrimination to become the first woman justice of the Supreme Court."
Vision
"To lead effectively, you need to define and share your vision," said Andrews, encouraging the audience to share their vision with others as she referred to the first female U.S. Secretary of State, Madelyn Albright, as an example of a leader who demonstrated great vision that helped shape America's role in the pre-9/11 world and continues to influence American foreign policy. "Effective leaders can see the big picture. Learn to communicate why you think the task at hand is important and why each person's job is crucial to the group's long-term success. Set measurable goals and milestones and be willing to change those if things change as well. Articulate your passion when things are going well and during times of difficulty—you will inspire dedication in others."
Self-awareness
"Knowing your strengths and addressing your weaknesses is a crucial leadership strength," said Andrews. "Be confident of things that you can do well. The best leaders admit and learn from their mistakes and are not afraid of being corrected. They know what others think of them and understand how they can contribute to the organization as a whole."
Andrews recounted how aviation pioneer Bessie Coleman's "great self-awareness" influenced her life and career decisions.
"She developed an intense interest in flying at a young age and knew she had it in her to become a pilot, but in the 1920s she could find no opportunity for flight school in the United States," said Andrews, pointing out that Coleman was not only a woman but also African American and Native American. "Many doors were closed for these groups, but Bessie refused to give up her dream so she traveled to France where she was able to get her pilot license in 1921, becoming the first African American woman to do so. After returning to the U.S., she became a successful air show pilot. Her story continues to inspire women aviators today. In our building at the FAA, we do have one of our areas there named after Bessie Coleman."
Decisiveness
"Good leaders simply are not afraid to lead," said Andrews. "They make considered, confident decisions and then they stand by the outcome. They analyze what steps are needed to reach their goals and they stay the course even when obstacles present themselves. Never be afraid to ask for others' opinions, to seek the help you need, and don't succumb to peer pressure or act against your best judgment."
Andrews referred to General Motors Chief Executive Officer Mary Barra as a great example of a decisive leader. "She is known for making tough decisions such as cutting underperforming businesses and pulling Chevrolet out of Europe," said Andrews, who quoted what Barra recently said about decision-making: "When we have to make tough decisions, there should be constructive tension; we should have vigorous debates. At the end of the day, the decision has to be made. If we don't have complete unanimity, I have no qualms about making it."
Collaboration
"It's difficult to lead a team to a common goal unless every team member is engaged," said Andrews. "For this reason, great leaders must make their teams feel trusted, valued, and supported. Listen to others and welcome their suggestions. Empower them to speak up and take risks. Encourage open and honest discussions and focus on effective conflict resolution."
"Former Vice Chief of Naval Operations Adm. Michelle Howard perfectly demonstrates the trait of collaboration," said Andrews. Howard—the first woman in the U.S. Navy promoted to four-star admiral—served as Commander of U.S. Naval Forces Europe and Commander of U.S. Naval Forces Africa where she promoted strong relationship and maritime collaboration between partner nations. "Adm. Howard was the first female graduate of the U.S. Naval Academy promoted to flag officer; the first African American woman to achieve two-star admiral rank; and the first African American woman to command a U.S. naval warship, the USS Rushmore (LSD 47). She also planned the 2009 mission to rescue Captain Richard Phillips from Somali pirates after his cargo ship was seized in the Gulf of Aden."
As she closed her speech, Andrews encouraged the audience to remember the courage of women leaders who brought the Navy and nation this far.
"Let us carry the torch into the next generation," said Andrews. "As you continue your vital role here at Dahlgren and throughout your careers, whether you're in uniform or out of uniform, think about what your legacy will be. Many of you out there can be recognized and honored just like these pioneer women for breaking down barriers that might be standing in your way."
Before she left the podium, Andrews left the audience with her "5 Ls"—live, love, learn, laugh, and legacy.
"Live and enjoy life. When we say 'love,' we're talking about unconditional love. 'Learn' is always an opportunity to educate yourself. 'Laugh'—don't think about yourself so much that you take yourself too seriously. Take life seriously, but not yourself. Enjoy each and every day. And 'legacy'—I can only hope and wish, as I'm sure we all do, to leave a legacy, whether it's for our children or for others, so that we can mold them and you can be the leaders that you are—to do these things."