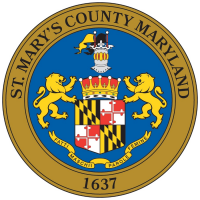 Stephen Walker Selected to Lead St. Mary's County's Emergency Services Department
The Commissioners of St. Mary's County have appointed Stephen Walker the county's new Emergency Services Director.
Mr. Walker, who has served as interim department director since November 2017, brings 37 years of experience in Public Safety to the position.
"We are extremely grateful Steve has accepted our offer to lead our Emergency Services," said Commissioner President Randy Guy. "He has proven to be a tremendous asset and a calming influence as interim director. The commissioners are confident he will continue to further strengthen our 911 Center and the Emergency Services provided to the citizens of St. Mary's County."
During his career, Mr. Walker held the rank of Military Police, Police Officer, Corporal, Deputy, and Lieutenant and, from 2007—2017, served as Chief of Police for the town of Edmonston, MD. Mr. Walker earned his bachelors and master's degree in Public Safety Management from Johns Hopkins and brings significant depth of experience and expertise to St. Mary's County.
"I am very excited at the opportunity to serve the residents, first responders and visitors of St. Mary's County. I am honored by the trust and confidence that the Commissioners of St. Mary's County have expressed in appointing me to this position," said Mr. Walker. "I look forward to continued progress in meeting the goals of the Commissioners of St. Mary's County and in the improvement of the delivery of Emergency Services to St. Mary's County."
Mr. Walker is a former President of the Police Chief's Association of Prince George's County, a member of Maryland Chiefs of Police Association and the former Treasurer of Maryland Municipal League.
His appointment is effective immediately. He will earn an annual salary of $115,000.
Governor Larry Hogan Helps to Break Ground on MD 5 at Abell Street/Moakley Street Improvement Project in Leonardtown
Reduces Congestion and Improves Safety on Heavily Traveled St. Mary's County Roadway
Governor Larry Hogan joined Maryland Department of Transportation (MDOT) Secretary Pete K. Rahn, MDOT State Highway Administration (MDOT SHA) Administrator Greg Slater to break ground on the much-anticipated MD 5 (Point Lookout Road) at Abell Street/Moakley Street intersection improvement project in Leonardtown. The trio was joined by Commissioner President Randy Guy, Commissioners Mike Hewitt (District 2) and Todd Morgan (District 4) along with members of the St. Mary's County legislative delegation, Leonardtown Mayor Dan Burris and Leonardtown Commissioner Jay Mattingly for the ceremony to launch the long-awaited project, which is a priority of St. Mary's County. When complete the project will improve safety and relieve congestion at this busy intersection. The $12 million project will widen MD 5 from Clarks Rest Road to the entrance of St. Mary's Hospital to add left-turn lanes, as well as include wide shoulders for bicyclists, horse-drawn carriages, and sidewalks for pedestrians.
"I am pleased that this priority project is moving forward and our commitment to the citizens of St. Mary's County has been kept," said Governor Hogan. "This project will help deliver much needed congestion relief to thousands of motorists and allow our citizens to get to work, and then back home again in a faster, safer, and more efficient manner."
The improvements will cut commute times by 10 minutes for those who travel this section of
MD 5 each day. MD 5 is a major thoroughfare from Southern Maryland to the Washington D.C. metropolitan area. Approximately 26,000 vehicles travel the corridor each day, a number which is projected to reach 32,000 by 2035.
"Our department is committed to improving our roadways, and we are pleased this long-awaited project will benefit the people of Leonardtown and the commuters of Southern Maryland," said Secretary Pete Rahn.
Next month, the MDOT SHA will begin phase one of the project, which includes utility relocation and grading work. Beginning spring 2019, MDOT SHA will begin construction to add the left-turn lanes, wide shoulders and new sidewalks. The project will be complete by fall 2021.
Caregivers Conference Set for April 20
The St. Mary's County Department of Aging & Human Services will host the 26th Annual Southern Maryland Caregivers Conference on Friday, April 20 at the Southern Maryland Higher Education Center in California, Maryland. Caregivers are encouraged to attend the annual event, which will take place from 8 a.m.—2:30 p.m. Admission for caregivers is $30.
The conference will touch on topics including : Protecting Yourself from Financial Exploitation; Coping with Challenging Behaviors Associated with Dementia; Body Mechanics and Safe Care Giving in the Home; Understanding the Medicare Maze; Veterans Affairs Caregiver Support Program; Caregiver Resources for the Southern Maryland Community; Making Sense of Living Wills and Other Advance Directives and Understanding the Maryland MOLST Form; Nutrition and Medications; Late Life Mental Health Disorders; Understanding Medicaid Coverages for the Elderly and Disabled; Building Caregiver Resilience through Proper Nutrition; Hospice, Palliative Care and Bereavement; Taking Care of Your Family: Hospital to Home and Caring for a Loved One who Never Cared for You.
The conference is sponsored by The Geriatrics and Gerontology Education and Research Program, the University of Maryland in Baltimore, the St. Mary's County Department of Aging & Human Services, the Charles County Department of Community Services and the Calvert County Office on Aging.
Pre-registration is required. For more information, or to register, contact Cindy Olmsted at 301-934-0128 or email olmstedc@charlescountymd.gov. Interested vendors should contact Rebecca Kessler at 301-475-4200, ext. *1061 or email rebecca.kessler@stmarysmd.com. Vendor spaces are limited. Registration is $45 for non-profit organizations and $95 for for-profit organizations. Sponsorships are still being accepted.
For caregivers in need of respite services or scholarships to attend the conference, contact Daphne Bennear at 301-475-4200, ext. *1069.
St. Mary's County Government Operations for Good Friday/Easter
All St. Mary's County Government administrative offices will be closed on Friday., March 30, 2018 in observance of Good Friday. All offices will reopen for normal business hours on Monday, April 2.
The St. Andrews Landfill, six (6) Convenience Centers, and St. Mary's Transit System (STS) will be operate as normal on Good Friday March 30. However, the Statewide Specialized Transportation Assistance Program (SSTAP) will not operate on March 30.
The St. Andrews Landfill, six (6) Convenience Centers and St. Mary's Transit System (STS) will be closed on Easter Sunday, April 1, 2018. The Landfill, Convenience Centers, and STS System will be open for normal business hours prior on Saturday, March 31 and Monday, April 2.
All three branch locations of the St. Mary's County Library will be open Friday, March 30 (Good Friday) and Saturday, March 31. The Lexington Park Library will be closed Sunday, April 1 for Easter.
The three Senior Activity Centers (Garvey, Loffler and Northern) will be closed Friday, March 30 and there will be no Wheels on Meals deliveries.
The St. Clement's Island and Piney Point Museums will be open and operating a normal schedule on March 30 for Good Friday and April 1 for Easter Sunday.