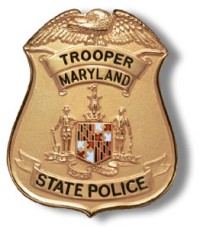 PRINCE FREDERICK, Md.
(March 19, 2018)—The Prince Frederick Barrack of the Maryland State Police (MSP) today released the following incident and arrest reports.
POSSESSION OF CLONAZEPAM: On 3/13/2018 at 9:25 pm, Trooper First Class T. Davis and Trooper Woolman while patrolling the area observed a possible drug transaction near Seagate Square in North Beach. Following that observation, they noticed when the vehicle involved in the incident left the area it failed to stop at a stop sign. A traffic stop was conducted and a K-9 scan was requested and resulted in a positive alert. A probable cause search revealed both Clonazepam pills and Suboxone film.
Charles R. Simacek, 40 of Chesapeake Beach
, was arrested and incarcerated in the Calvert County Detention Center.
ROBBERY/THEFT: On 3/15/2018 at 10:14 pm, Trooper Foley responded to the Broadcast from the Control Center reporting a robbery in progress at the Giant Store in Dunkirk. The caller reporting the incident stated the suspect stole a victim's purse and fled in a red sedan. The victim and a store employee were able to provide a license number. The victim stated her purse was removed from her shopping cart while in the meat aisle. The purse contained the victim's cell phone, cash, medications, and gift cards. A positive identification was made by the victim and the store employee of the suspect. Charges are pending for the arrest of
Joseph W. Abbott, Jr., 25 of Hughesville
.
DUI Arrests
Joseph A. Kivlehan, 34, of Leominster, MA, arrested on 03/12/2018 @ 11:19 am by CPL. C. Esnes
Frederick J. Jefferson, Jr., 41, of California, arrested on 03/16/2018 @ 01:31 am by TPR. R. Backus
Lorraine M. Knight, 44, of Washington, DC, arrested on 03/16/2018 @ 11:08 pm by TPR. D. Foley
Chrystal L. Smith, 35, of Lusby, arrested on 03/16/2018 @ 11:44 pm by TFC P. Kaitz
Bowen M. Lawrence, 20, of Columbia, SC, arrested on 03/16/2018 @ 11:58 pm Columbia, SC by TPR R. Marsch
Brandon R. Miller, 26, of Mechanicsville, arrested on 03/17/2018 @ 12:50 am by TFC J. Palumbo
Angela A. Jones, 50, of Pr. Frederick, arrested on 03/17/2018 @ 01:48 am by TPR K. Stull
Nathaniel Brooks, 40, of Huntingtown, arrested on 03/17/2018 @ 09:45 pm by TFC J. Palumbo
James R. Adams, 54, of Lusby, arrested on 03/17/2018 @ 11:01 pm by TPR. K. Stull
Jeanna S. Lehnen, 29, of Hague, VA, arrested on 03/19/2018 @ 12:31 am by TFC P. Kaitz
For the current list of crime solvers cases in southern Maryland, see so.md/mostwanted
Disclaimer: In the U.S.A., all persons accused of a crime by the State are presumed to be innocent until proven guilty in a court of law. See: so.md/presumed-innocence. Additionally, all of the information provided above is solely from the perspective of the respective law enforcement agency and does not provide any direct input from the accused or persons otherwise mentioned. You can find additional information about the case by searching the Maryland Judiciary Case Search Database using the accused's name and date of birth. The database is online at so.md/mdcasesearch . Persons named who have been found innocent or not guilty of all charges in the respective case, and/or have had the case ordered expunged by the court can have their name, age, and city redacted by following the process defined at so.md/expungeme.