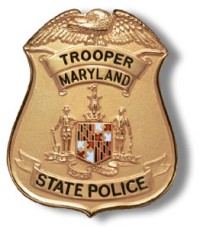 PRINCE FREDERICK, Md.
(March 05, 2018)—The Prince Frederick Barrack of the Maryland State Police (MSP) today released the following incident and arrest reports.
THEFT: On 2/26/2018 at 5:15 pm, Trooper First Class Rucker responded to the KFC Restaurant in Prince Frederick for a theft complaint. Investigation revealed
Ralph A. Woodward, 28 of St. Leonard
, an employee, had stolen cash from another employee while on break. Charges are pending for theft for Woodward.
DISORDERLY CONDUCT: On 2/26/2018 at 10:03 pm, Corporal Esnes stopped a vehicle on Rt. 4 in the area of Dowell Rd. for traffic violations. After obtaining the vehicle operator's license and returning to his patrol vehicle, the operator proceeded to turn and continue on HG Trueman Road. Once the vehicles were again stopped, as Cpl Esnes was exiting his vehicle, she again continued to travel on HG Trueman Road. She again was stopped and was asked to exit her vehicle.
Monique L. Carlton, 25 of Lusby
, was arrested for Disorderly Conduct and Resisting Arrest.
DUI Arrests
Karen M. Granton, 42, of Burtonsville, arrested on 03/01/2018 @ 12:34 am by TPR. D. Foley
Ryan A. Bylan, 35, of Huntingtown, arrested on 03/02/2018 @ 12:00 am by TFC J. Jones
Jennifer A. Saunders, 31, of Port Republic, arrested on 03/03/2018 @ 03:26 pm by TFC T. Davis
Sarah A. Wynne, 23, of Prince Frederick, arrested on 03/04/2018 @ 12:43 am by TFC J. Warrick
For the current list of crime solvers cases in southern Maryland, see so.md/mostwanted
Disclaimer: In the U.S.A., all persons accused of a crime by the State are presumed to be innocent until proven guilty in a court of law. See: so.md/presumed-innocence. Additionally, all of the information provided above is solely from the perspective of the respective law enforcement agency and does not provide any direct input from the accused or persons otherwise mentioned. You can find additional information about the case by searching the Maryland Judiciary Case Search Database using the accused's name and date of birth. The database is online at so.md/mdcasesearch . Persons named who have been found innocent or not guilty of all charges in the respective case, and/or have had the case ordered expunged by the court can have their name, age, and city redacted by following the process defined at so.md/expungeme.