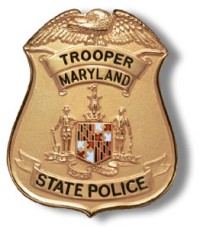 LA PLATA, Md.
(Feb. 27, 2018)—The La Plata Barrack of the Maryland State Police (MSP) released the following incident and arrest reports.
Handgun Violation
On Monday, February 26, at approximately 1816 hours, Trooper M. Zentkovich #6328 and Trooper C. Hussey #6913 conducted a traffic stop on a white Chevrolet Impala for expired registration on westbound Route 225 east of Mitchell Road, La Plata, Charles County. Upon making contact with the operator
Angelo Junious Moore, 32, of Indian Head
, Trooper Zentkovich detected an odor of Marijuana emitting from inside the vehicle. A probable cause search of the vehicle was conducted, and revealed a loaded black and silver, Smith and Wesson Springfield SW40VE, 40 caliber handgun.
Moore was arrested and transported to the Charles County Detention Center for processing. Moore was charge with: several traffic violations and CR4-203—Handgun in Vehicle, PS 5-144(a)(2) Know Alter Firearm ID Number, CR 4-203—Handgun on Person, PS 5-133.1 Illegal Possession Ammunition, and PS 5-133(b) Regulated Firearm: Illegal Possession
DUI Saturation Patrol Initiative Results
The Maryland State Police La Plata Barrack in cooperation with the Maryland State Police Washington Metro Troop, Charles County Sheriff's Office, La Plata Town Police and Maryland Transportation Authority Police recently conducted a DUI Saturation Patrol Initiative. Results of the operation are as follows; 109 total traffic stops were initiated, 65 citations, 104 warnings and 18 equipment repair orders were issued. 4 subjects were arrested for DUI, 2 for open warrants and 3 for violations of a control dangerous substance.
For the current list of crime solvers cases in southern Maryland, see so.md/mostwanted
Disclaimer: In the U.S.A., all persons accused of a crime by the State are presumed to be innocent until proven guilty in a court of law. See: so.md/presumed-innocence. Additionally, all of the information provided above is solely from the perspective of the respective law enforcement agency and does not provide any direct input from the accused or persons otherwise mentioned. You can find additional information about the case by searching the Maryland Judiciary Case Search Database using the accused's name and date of birth. The database is online at so.md/mdcasesearch . Persons named who have been found innocent or not guilty of all charges in the respective case, and/or have had the case ordered expunged by the court can have their name, age, and city redacted by following the process defined at so.md/expungeme.