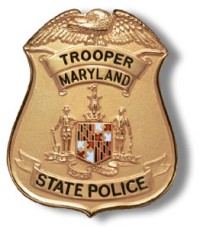 PRINCE FREDERICK, Md.
(Feb. 26, 2018)—The Prince Frederick Barrack of the Maryland State Police (MSP) today released the following incident and arrest reports.
POSSESSION OF HEROIN AND DRUG PARAPHERNALIA: On 2/19/2018 at 8:53 am, Trooper First Class Warrick stopped a vehicle on Rt. 4 south of Plum Point Rd. in Huntingtown. The vehicle matched the description of one previously reported earlier as suspicious in the Huntingtown area. Because of several observed drug indicators, a K-9 scan was requested and resulted in a positive alert.
Melissa A. Howell, 31 and Dustin W. Lincoln, 29, both of Waldorf
, were found to be in possession of heroin and drug paraphernalia. Both were arrested and incarcerated in the Calvert County Detention Center.
THEFT OF HANDGUN: On 2/20/2018 at 9:12 am, Trooper First Class Warrick received a complaint regarding a firearm stolen from a vehicle. The victim reported a Glock 19, 9mm semi-automatic pistol had been stolen from his vehicle. The handgun has been entered into NCIC. Investigation continues.
POSSESSION OF CRACK COCAINE: On 2/20/2018 at 5:33 pm, Trooper First Class Warrick responded to the Calvert County Detention Center Work Release Center on Stafford Road in Prince Frederick for a reported CDS Violation.
Bethani Y. Wood, 27, of Lusby
, was found to be in possession of a CDS smoking device containing suspected crack cocaine. Wood was arrested and incarcerated at the Calvert County Detention Center.
POSSESSION WITH INTENT TO DISTRIBUTE: On 2/22/2018 at 4:04 am, Trooper First Class Kaitz stopped a vehicle on Rt. 4 near Lower Marlboro Rd. in Owings for traffic violations. A strong odor of raw marijuana was emitting from inside the vehicle. A probable cause search revealed 865.2 grams of Marijuana and Tetrahydrocannboid wax (THC) and drug paraphernalia.
Yolanda D. Ford, 28, of Washington, DC
was arrested. Ford initially gave a false name and investigation later revealed her true identity. Ford was incarcerated in the Calvert County Detention Center.
DUI Arrests
Alana C. Milinski, 31, of Lusby, arrested on 02/20/2018 @ 08:11 pm by TFC J. Palumbo
Solymar D. Vasquez-Valverde, 19, of Panama, arrested on 02/21/2018 @ 01:02 am by TFC K. Robinson
Ross M. Thorne, 37, of Indian Head, arrested on 02/23/2018 @ 03:58 pm by TFC W. Costello
Lauryn K. Donley, 19, of Huntingtown, arrested on 02/23/2018 @ 11:34 pm by TFC P. Kaitz
Melissa J. Overman, 30, of Lexington Park, arrested on 02/24/2018 @ 03:47 pm by TFC S. Matthews
For the current list of crime solvers cases in southern Maryland, see so.md/mostwanted
Disclaimer: In the U.S.A., all persons accused of a crime by the State are presumed to be innocent until proven guilty in a court of law. See: so.md/presumed-innocence. Additionally, all of the information provided above is solely from the perspective of the respective law enforcement agency and does not provide any direct input from the accused or persons otherwise mentioned. You can find additional information about the case by searching the Maryland Judiciary Case Search Database using the accused's name and date of birth. The database is online at so.md/mdcasesearch . Persons named who have been found innocent or not guilty of all charges in the respective case, and/or have had the case ordered expunged by the court can have their name, age, and city redacted by following the process defined at so.md/expungeme.