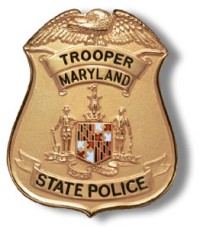 PRINCE FREDERICK, Md.
(February 05, 2018)—The Prince Frederick Barrack of the Maryland State Police (MSP) today released the following incident and arrest reports.
POSSESSION OF MARIJUANA: On 1/31/2018 at 8:35 pm, Corporal Esnes stopped a vehicle on Rt. 4 near Patuxent Point Parkway in Solomons for traffic violations. The driver, Dairquarius J. Gantt, 23 of Port Republic was arrested for driving on a revoked license. The strong odor of raw marijuana was emitting from within the interior of the vehicle. The search of Gantt did not reveal any CDS and the search of the vehicle did not reveal any CDS. Gantt was asked several times if he had CDS in his possession and each time he stated "no." Once Gantt was at the Calvert County Detention Center a strip/secondary search of his person revealed a large amount of marijuana hidden in his groin area. Gantt will be additionally charged with Possessing CDS/contraband within a place of confinement.
THEFT OF HANDGUN: On 2/1/2018 at 4:38 pm, Corporal Esnes responded to the 400 block of White Sands Drive in Lusby for a reported theft of a handgun. The victim reported the last time he observed his Hi-Point handgun in it's stored location was prior to a party hosted at the home on the 27th. The Hi-Point model CF380HSP has been entered into NCIC. Investigation continues.
DUI Arrest: Nathan E. Coates, Jr., 30, of Upper Marlboro, arrested on 02/04/2018 @ 11:56 pm by TFC S. Matthews.
For the current list of crime solvers cases in southern Maryland, see so.md/mostwanted
Disclaimer: In the U.S.A., all persons accused of a crime by the State are presumed to be innocent until proven guilty in a court of law. See: so.md/presumed-innocence. Additionally, all of the information provided above is solely from the perspective of the respective law enforcement agency and does not provide any direct input from the accused or persons otherwise mentioned. You can find additional information about the case by searching the Maryland Judiciary Case Search Database using the accused's name and date of birth. The database is online at so.md/mdcasesearch . Persons named who have been found innocent or not guilty of all charges in the respective case, and/or have had the case ordered expunged by the court can have their name, age, and city redacted by following the process defined at so.md/expungeme.