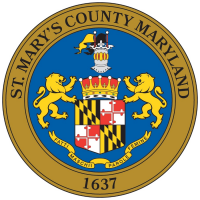 Commissioners Meeting Canceled
The Commissioners of St. Mary's County have announced the Tuesday, January 30, 2018 weekly business meeting has been canceled.
Several commissioners have come down with the flu and, as such, are unable to constitute a quorum.
The next Commissioners of St. Mary's County business meeting is scheduled for Tuesday, February 6, at 12:30 p.m. in Leonardtown.
New Bus Route to Connect STS Riders to Calvert County
The St. Mary's County Transit System is proud to announce its new connection with the Calvert County Transit System.
Beginning Monday, February 5, one route, serving MD 231 in Calvert, will be extended to Charlotte Hall. This marks Southern Maryland's first tri-county public transit connection .
The new service will allow residents in Calvert County to connect with the Charlotte Hall Veterans Home for health care opportunities, as well as Social Security and other services and shopping in St. Mary's County. Students in St. Mary's County students will now have added access to CSM's Prince Fredrick Campus. The new connection is expected to increase employment and educational opportunities in both counties.
"This is wonderful news particularly for Veterans in Calvert County wishing to access the Charlotte Hall Veterans Home," said Commissioner President Randy Guy. "This new route is something which has been in the works for quite a while. Citizens have told us this is something they wanted and I'm happy to say is now a reality."
The new route will operate weekdays and provide direct connections for transfers between Calvert, St. Mary's and Charles counties' public transportation service. To celebrate the launch of the route, riders from all three counties can take the new route free the week of February 5–9.
The schedule is available at
www.scribd.com/document/370354300/New-Bus-Route-to-Connect-STS-Riders-to-Calvert-County
For information on all STS schedules and fares, visit
www.stmarysmd.com/dpw/STSfares.asp
Ponti Named PIO Communications Coordinator
The St. Mary's County Public Information Office is pleased to welcome Andrew Ponti as the new Communications Coordinator. He replaces Cheri Noffsinger who is the new Administrative Assistant to the County Administrator.
Mr. Ponti is well known throughout the county, serving as Tourism Coordinator since 2014. His work includes collaborating with numerous travel and tourism clients, businesses and organizations to successfully promote St. Mary's County as a prime Southern Maryland tourist destination. He's also managed Public Relations activities for the county's Tourism Division, including the establishment and coordination of travel writer communications and media tours. Andrew has administered Tourism's new website and social media efforts, which has resulted in continual growth in the number of likes and followers across several platforms. He also
He has served as a key member of the county's Tourism and Hospitality Master Planning Committee executive team. The team worked with a consultant to convert St. Mary's County Tourism to a non-profit entity. The move becomes official this summer.
Ponti has served as Social Media Chairman of the Mid-Atlantic Tourism Public Relations Alliance (MATPRA) where he was responsible for coordinating social media efforts for the organization.
Prior to coming to St. Mary's County, Andrew served as Business and Administrative Manager and Executive Director of the Harrisburg Area Riverboat Society, Inc.
"We are extremely fortunate to have Andrew join the Public Information Office staff," said Tony Jones, Public Information Officer. "We have worked on a number of projects since he arrived in 2014. I know what he brings to the table and am confident he will assist our office in growing our communications efforts in the future."
Andrew is a graduate of the University of Scranton. He's married and lives in Leonardtown.
Ponti will officially join the PIO team on February 9.