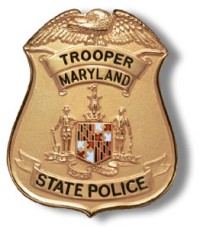 LA PLATA, Md.
(January 29, 2018)—The La Plata Barrack of the Maryland State Police (MSP) today released the following incident and arrest reports.
DUI, POSSESSION OF A HANDGUN: On Sunday, January 28, at approximately 0345 hours, TFC J. Oleksak #6300 was dispatched to a motor vehicle collision at westbound Route 425, west of Durham Church Road, Nanjemoy, Charles County. TFC Oleksak made contact with the driver, Glenda Renee Gray. Charles County Sheriff Deputy Garrison #635 was at the scene and recovered a silver/black Smith & Wesson handgun in the vehicle. Further investigation revealed that the actual driver was Jaquan Duane Gray, 23, of Indian Head, and not his mother G. Gray. J. Gray advised the handgun was his. TFC Oleksak smelled a strong odor of an alcoholic beverage emitting from J. Gray's breath. J. Gray was arrested and charged with DUI and Possession of a handgun in vehicle. All events occurred in Charles County, Maryland. 18-MSP-003937.
POSSESSION OF MARIJUANA: On Sunday, January 28, at approximately 2356 hours, Trooper D. Phillips #6548 observed a Dodge Durango with its right headlight and tag light inoperable on northbound Route 301 at Holly Tree Avenue, Waldorf, Charles County. Trooper Phillips made contact with the driver Charles Alfred Burch, 3rd, 19, of Waldorf. Trooper Phillips detected a strong odor of burnt Marijuana emitting from the vehicle and a probable cause search was conducted. Burch was arrested and charged with Possession of Marijuana over 10 grams. All Events occurred in Charles County, Maryland. 18MSP004033.
For the current list of crime solvers cases in southern Maryland, see so.md/mostwanted
Disclaimer: In the U.S.A., all persons accused of a crime by the State are presumed to be innocent until proven guilty in a court of law. See: so.md/presumed-innocence. Additionally, all of the information provided above is solely from the perspective of the respective law enforcement agency and does not provide any direct input from the accused or persons otherwise mentioned. You can find additional information about the case by searching the Maryland Judiciary Case Search Database using the accused's name and date of birth. The database is online at so.md/mdcasesearch . Persons named who have been found innocent or not guilty of all charges in the respective case, and/or have had the case ordered expunged by the court can have their name, age, and city redacted by following the process defined at so.md/expungeme.