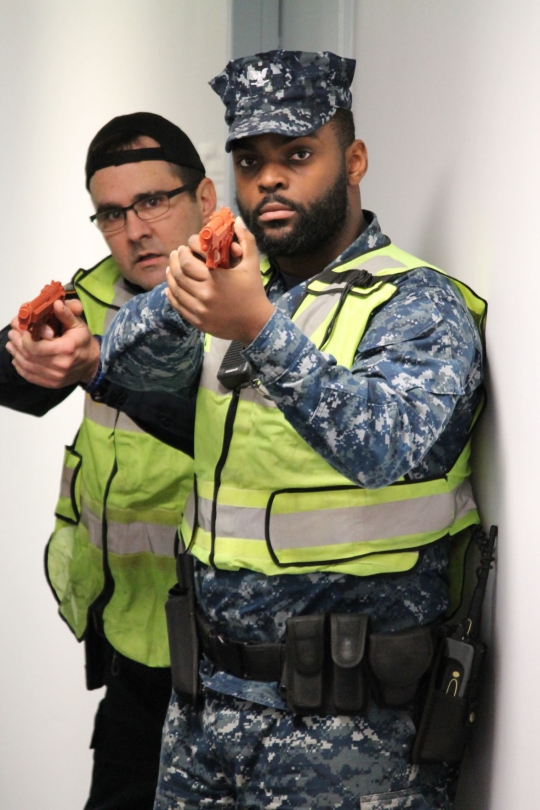 Members of the NAS Patuxent River Security Department participate in an Active Shooter scenario during last year's Solid Curtain-Citadel Shield exercise. (U.S. Navy photo by Donna Cipolloni)
PATUXENT RIVER, Md.
(January 25, 2018)—The Navy's anti-terrorism, force protection (ATFP) exercise known as Solid Curtain-Citadel Shield (SC-CS) is about to get underway Navywide—including at NAS Patuxent River—Jan. 29 through Feb. 9.
Conducted by Commander, U.S. Fleet Forces Command and Commander, Navy Installations Command, the two-week, two-part exercise uses realistic drills and scenarios to enhance the readiness of Navy security forces and ensure seamless interoperability among the commands, other services, and agency partners.
"The purpose of the exercise is to help us test our ET (emergency training) Plan and PPR (pre-planned responses) to make sure we have the correct procedures in place to effectively defend this base should an attack happen," explained Master-at-Arms 1st Class Adam Wiltrout, the Operations and Training leading petty officer.
Week one's Citadel Shield focuses on installation-level training. Scenarios occurring that week do not influence any other events in the rest of the Naval District Washington (NDW) Region or United States Northern Command (NORTHCOM) area of responsibility (AOR).
"There will be drills every day exercising more in-house security related events," Wiltrout said. "This will include integrated events where the Pax River fire department, EMS, public works, emergency operations center and FFSC participate together."
Week two's Solid Curtain exercise is a national-level exercise centered on command, control and communications between all echelons Navywide where everything that happens at any installation affects every other installation, even if only in a minor way.
For instance, if leadership—NORTHCOM, U.S. Fleet Forces Command or CNIC—sees trends or incidents going on in one or more areas that they feel may also impact a different area, they can selectively put installations, regions or the entire AOR into a heightened force protection condition (FPCON).
"In the NDW Region this year, Pax River was selected to be the pinnacle event—or capstone event, as they call it—and a lot of eyes [from higher headquarters] will be watching the exercise," Wiltrout added. "What happens here will drive the national storyboard for installations across the nation. Let's say, in addition, gates are penetrated in the Northwest and Southeast regions; that data is collected and sent out to all installations. Multiple events connect the dots between multiple installations and paint a picture which then forces anti-terrorism officers in certain locations to enact certain security postures."
As one of very few people who know in advance what will occur during the SC-CS exercise, Wiltrout said about 10 separate events will take place and some will be unexpected.
"There are 17 Navy standard exercises that we're required to do yearly, but the capstone event is not one of those 17," he said. "It's not something we train to and don't necessarily have the blueprints for. There's also a new drill that will take place the first week that is not part of Navy standard drills. These come from lessons learned from other installations where they've had actual incidents happen and now we need to create a procedure for them."
While every effort is made to limit inconveniences, air station personnel are warned that some delays will likely occur and are asked to remember the purpose of the training exercise—to ensure the protection of those who work and live aboard Pax River.
"We ask for their patience," Wiltrout noted. "They may hear sirens and see emergency vehicles running code back and forth across the base; and they can expect multiple gate closures for an hour or two at a time, as well as increased force protection conditions. We encourage them to check notifications posted on the NAS Facebook page and pay attention to AtHoc messages to help them plan their day."