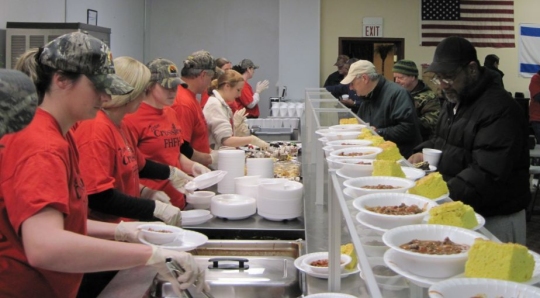 Farmers and Hunters Feeding the Hungry reports that during the last full hunting season in Maryland, more than 1,700 deer were donated, providing approximately 280,000 meals to state residents in need. (FHFH courtesy photo)
PATUXENT RIVER, Md.
(January 18, 2018)—The Bird/Animal Strike Hazard (BASH) program at NAS Patuxent River exists in support of airfield safety by working to prevent wildlife strikes to aircraft using an integrated approach to wildlife management.
Part of that management includes the assistance of hunters to help reduce the installation's deer population, when necessary.
"Hunters take the most deer off the airfield every year, but occasionally additional deer need to be taken outside of the hunting season," explained Jim Swift, natural resources specialist with Pax River's Environmental Division. "Deer taken outside of the hunting season are only shot as needed, and those deer are unacceptably close to or on the runways, or have shown a pattern of behavior that increases the strike risk."
To make the most of the situation, any deer harvested outside of hunting season are donated to Farmers and Hunters Feeding the Hungry (FHFH), a non-profit organization located in more than 20 states, whose mission is to feed the hungry with free donations of meat to local food banks, soup kitchens and homeless shelters.
The deer are then processed at nearby approved and inspected butcher shops enrolled in the program; and one of those shops is Wild Game Processor in California, Maryland.
"When Pax has deer available, they'll deliver them and I'll check them into a log book [for tracking]," said shop owner Mike McWilliams. "I usually grind the meat because it's easier to do and easiest to use. Then I'll package it and freeze it for pickup."
With funding from monetary donations, FHFH is able to pay the entire cost of processing the deer, although McWilliams offers the organization a discount for his service.
"So far this year, I've processed 115 deer—over 5,000 pounds of pure meat," he said. "But I usually average 80 to 100 deer, or about 4,000 pounds of meat per year. And about 99 percent of the meat I process stays here in St. Mary's County."
According to the Maryland Department of Natural Resources website page supporting FHFH, food banks report that meat is their least available food item, due to its high cost of $2 to $5 per pound, and they are grateful for deer meat donations.
DNR states that deer meat, or venison, is a nutritious, low fat, high protein meat distributed to and cooked by hundreds of Maryland community organizations such as church pantries and feeding ministries, the Salvation Army, community food banks, emergency assistance programs and children's homes.
"What better way is there to help than by feeding people," McWilliams asked.
Pax River has been involved with FHFH since 2002.
"This is a fantastic program that provides hundreds and thousands of pounds of meat to people who need some assistance," Swift said. "It's good to know these deer are helping people in the local community and not being wasted, while still benefiting the Navy's mission by keeping the airfield safe for the pilots and aircrews at NAS Pax River."
An average of 40 to 50 pounds of meat can be taken off each deer. If ground and used in spaghetti or chili, for example, one deer can feed approximately 200 people. In the last five years, NAS Patuxent River has donated 136 deer to Farmers and Hunters Feeding the Hungry, putting over 27,000 meals on the table in St. Mary's County.
To learn more about FHFH and how you can help feed the hungry, visit
www.fhfh.org.