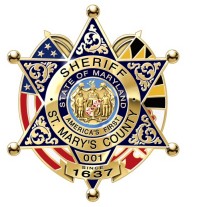 LEONARDTOWN, Md.
(January 23, 2018)—The St. Mary's County Sheriff's Office today released the following arrest reports.
On View Arrests
DUI, WEAPONS VIOLATION: On January 18, Dep. Molitor responded to a motor vehicle accident in the 20000 block of Pt. Lookout Road in Callaway. The reported at-fault vehicle in the accident was in the process of fleeing the scene. Upon arrival, Dep. Molitor located the suspect vehicle disabled a short distance from the scene. Contact was made with the operator of the vehicle,
Charles Ray McElhaney, age 62, of Tall Timbers
. McElhaney was ultimately arrested for Driving Vehicle While Under the Influence of Alcohol, and Driving While Impaired. Inventory search of McElhaney's vehicle was conducted prior to it being towed from the scene; a handgun was located under the passenger seat of the vehicle; ammunition was located inside the vehicle as well, and an open bottle of whiskey was also found in the vehicle. McElhaney was additionally charged with Carrying a Handgun in a Vehicle. CASE# 3140-18/3142-18.
ASSAULT: On January 19, DFC. Schultz responded to the 46000 block of Ellenbee Court in Lexington Park for a report of an assault. Upon arrival contact was made with a victim who displayed visible injury from an assault. Investigation revealed that Suspect
Brian O'Neal Johnson, age 31, of Lexington Park
, assaulted the victim by striking the victim in the face several times. Johnson was arrested and charged with Assault 2nd Degree. CASE# 3191-18.
ASSAULT, CDS, RESISTING ARREST: On January 19, Cpl. O'Connor responded to the 48000 block of Keel Drive in Lexington Park to locate a critically missing person. Upon arrival officers were let into the residence by an individual who had visible signs of injury to their face. The victim advised the injuries were caused by Suspect
Crystal Lynn Magtutu, age 30, of Clements
. Contact was made with Magtutu who was uncooperative and would not allow herself to be taken into custody. Magtutu was ultimately taken into custody and numerous pills suspected to be Flexeril were located on her person in an unlabeled prescription bottle. Magtutu was charged with Assault 2nd Degree, CDS: Possess-Not Marijuana, and Resist/Interfere with Arrest. CASE# 3210-18.
ALCOHOL VIOLATION: On January 19, DFC. Beishline and DFC. Pontorno were in the 21000 block of Great Mills Road in Lexington Park when they observed
Paul Matthew Baker, age 33
, and
Ryan Nicholas Cherrico, age 27, both of Mechanicsville
, with open containers of alcohol. Baker and Cherrico were both charged with Open Alcoholic Beverage Container via Criminal Citations. CASE# 3283-18. (No Photographs Available)
BURGLARY, ASSAULT: On January 19, DFC. D. Smith responded to the 26000 block of Holt Lane in reference to an in progress burglary/assault. Upon arrival, DFC. Smith observed Suspect
Shaun Sylvester Johnson, age 37, with no fixed address
, leaving the residence. DFC. Smith took Johnson into custody at which time Johnson became combative; Johnson was ultimately arrested. Investigation revealed Johnson had assaulted the victim earlier in the evening, and later came to the victim's residence and forced his way into the residence. Johnson was charged with Home Invasion, Burglary 4th Degree, Assault 2nd Degree, Malicious Destruction of Property, Theft, and Resist/Interfere with Arrest. CASE# 3278-18.
Warrants
01/18/2018:
Linda Marie King, age 57, of Chesapeake Beach
, was arrested on an outstanding warrant for FTA/Assault 2nd Degree by Dep. Muschette# 303. CASE# 3107-18.
01/19/2018:
Kiva Trinette Keemer, age 37, of Lexington Park
, was arrested on an outstanding warrant for CDS Possession not Marijuana, and CDS Distribution by Dep. Bowie# 317. CASE# 3310-18.
For the current list of crime solvers cases in southern Maryland, see so.md/mostwanted
Disclaimer: In the U.S.A., all persons accused of a crime by the State are presumed to be innocent until proven guilty in a court of law. See: so.md/presumed-innocence. Additionally, all of the information provided above is solely from the perspective of the respective law enforcement agency and does not provide any direct input from the accused or persons otherwise mentioned. You can find additional information about the case by searching the Maryland Judiciary Case Search Database using the accused's name and date of birth. The database is online at so.md/mdcasesearch . Persons named who have been found innocent or not guilty of all charges in the respective case, and/or have had the case ordered expunged by the court can have their name, age, and city redacted by following the process defined at so.md/expungeme.