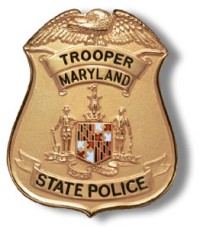 LA PLATA, Md.
(January 16, 2018)—The La Plata Barrack of the Maryland State Police (MSP) today released the following incident and arrest reports.
STOLEN VEHICLE PLATES: On January 12, at 1545 hours, TFC Jeans #6483 was on patrol St. Ignatius Drive at High Street, Waldorf, when he received a License Plate Reader (LPR) alert for stolen Maryland registration Plates, which were being displayed on a 2003 Ford Explorer. Charles County Deputy Hamilton #628 was with TFC Jeans and a traffic stop on the vehicle was conducted in the parking lot of the Safeway. The operator,
Eliceo Celerino Allen, 25, from Waldorf
, was arrested for Theft Less than $100. The tags were removed from the vehicle to be processed and then returned to MVA. 18-MSP-001616.
TRESPASSING: On January 10, at 1934 hours, TFC Jeans responded to the Shoppers Food Warehouse located at St. Charles Towne Plaza in Waldorf for a trespassing report. Upon arrival, an employee of Shoppers Food Warehouse advised that
Paul Maurice Butler, 34, of Lanham
, who was banned from the property by the Charles County Sheriff's Office, was observed in Shoppers Food Warehouse and on the St. Charles Towne Plaza property. TFC Jeans located Butler and he was arrested for Trespassing on private property. 18-MSP-001366.
For the current list of crime solvers cases in southern Maryland, see so.md/mostwanted
Disclaimer: In the U.S.A., all persons accused of a crime by the State are presumed to be innocent until proven guilty in a court of law. See: so.md/presumed-innocence. Additionally, all of the information provided above is solely from the perspective of the respective law enforcement agency and does not provide any direct input from the accused or persons otherwise mentioned. You can find additional information about the case by searching the Maryland Judiciary Case Search Database using the accused's name and date of birth. The database is online at so.md/mdcasesearch . Persons named who have been found innocent or not guilty of all charges in the respective case, and/or have had the case ordered expunged by the court can have their name, age, and city redacted by following the process defined at so.md/expungeme.