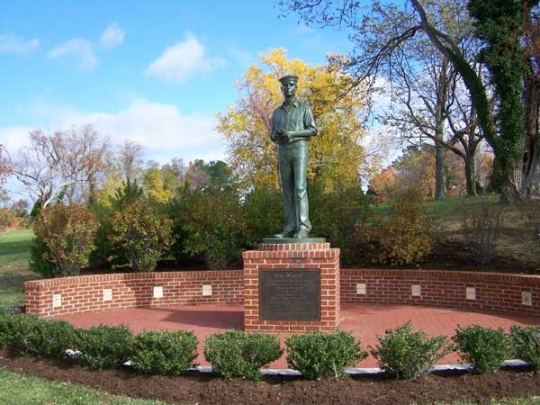 The World War II "On Watch" Memorial Statue in Dowell. (Photo: Calvert Co. Government)
Honor Veterans with Commemorative Bricks in Support of Solomons "On Watch" Memorial Statue
The Calvert County Department of General Services is coordinating the annual "On Watch" memorial brick campaign taking place now through April 28, 2018. For a limited time, the public may purchase memorial bricks to be placed at the Veterans Patio, located at the World War II "On Watch" Memorial Statue in Dowell.
The bricks are available to memorialize those who served our country during World War II. The cost of each brick is $100 and all contributions are tax deductible. Purchasers will be notified when the bricks are in place and available for viewing. An "On Watch" application is available at
www.co.cal.md.us/onwatch
. To learn more, call Melinda Donnelly at 410-535-1600, ext. 2565.
The "On Watch" Memorial Statue is an 8-foot-tall bronze statue unveiled in 2007 by Maryland artist Antonio Tobias Mendez. The statue commemorates the people and work at the Solomons Amphibious Training Base, the nation's first, during World War II. Between 1942 and 1945, around 68,000 sailors, marines, coast guardsmen and soldiers trained to make beach landings; these forces had major roles at landings in Guadalcanal, North Africa, Sicily, Normandy and the Pacific Solomons Islands.
Dine Out During Calvert County's Sixth Annual Restaurant Week
Calvert County's eclectic restaurants will showcase their creative cuisine and offer delicious deals during Calvert County's sixth annual Restaurant Week Feb. 16–25, 2018.
Coordinated by the Calvert County Department of Economic Development, Calvert County Restaurant Week will feature restaurants that draw on the region's bounty to offer unique dining experiences. Whether your favorite fare is fresh seafood, Italian cuisine or anything in between, Restaurant Week has something to satisfy any taste.
"This annual event has become one of Calvert County's favorite traditions," said Kelly Robertson-Slagle, director of the Calvert County Department of Economic Development. "According to our citizens, visitors and restaurant owners, Restaurant Week gets better and tastier every year. It presents a great opportunity for patrons to try some of Calvert's best restaurants at excellent prices."
Restaurant Week patrons can enter a drawing for prizes by completing an online feedback form or filling out response cards at participating restaurants. A special section on the Calvert County tourism website at ChooseCalvert.com/RestaurantWeek features full event details including the growing list of participating restaurants, menus, a mapping feature showing restaurant locations and frequently asked questions.
Diners are encouraged to make Restaurant Week reservations early. Special menus may be offered for both lunch and dinner. Some restaurants may offer the promotional pricing at one meal, rather than both.
Look for Calvert County Restaurant Week on Facebook and join the event. For information on the Calvert County Department of Economic Development and the services available to assist county businesses, call 410-535-4583 or 301-855-1880; send an email to info@ecalvert.com; visit online at
www.ecalvert.com
.
Calvert County to Host Free Residential Shredding Event
The Calvert County Department of Public Works, Solid Waste Division is hosting a free paper shredding recycling event for county residents Saturday, Jan. 27. The event will be held at Northern High School located at 2950 Chaneyville Road in Owings from 8 a.m. to noon, rain or shine. The shred event helps prevent identity theft by destroying confidential or sensitive documents.
All paper must be removed from plastic bags and cardboard boxes. Paper clips and staples are acceptable. Binders and binder clips are not acceptable. There is no limit per resident, and proof of residency is required. Certificates of destruction will be provided if requested. Businesses are prohibited from this event.
2018 Visitors Guide Invites All to "Catch our Drift"
The 2018 Calvert County Visitors Guide is now available. Use the Visitors Guide to find information on shopping, restaurants and visitor attractions like Breezy Point Beach & Campground, Annmarie Sculpture Garden & Arts Center, Calvert Marine Museum, Jefferson Patterson Park & Museum, the Patuxent Wine Trail and many other places of interest that make Calvert County, Maryland a favorite destination.
The guide also features contact information and details on charter boats, marinas, boat ramps, campgrounds, golf courses, antique stores, accommodations and biking/hiking trails as well as a listing of major events throughout the year. Whether you come to comb for shark's teeth or sail the scenic Chesapeake Bay, discover amazing adventures and unspoiled beauty in Southern Maryland's Calvert County.
"Calvert County is one of Maryland's most beautiful regions and our 2018 Visitor Guide certainly proves the point," said Calvert County Department of Economic Development Tourism Specialist Katie Brittain. "From local attractions and events to beaches, boating, dining and more, the Calvert County Visitors Guide is your source for unforgettable experiences."
To receive free copies of the 2018 Visitors Guide or for more information on county attractions and events, please contact the Calvert County, Maryland, Department of Economic Development at 410-535-4583 or via email at info@ecalvert.com. Visit online at
www.choosecalvert.com.