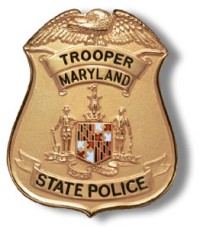 LA PLATA, Md.
(January 11, 2018)—The La Plata Barrack of the Maryland State Police (MSP) today released the following arrest report.
POSSESSION WITH INTENT TO DISTRIBUTE: On January 10, at 1008 hours, Trooper Phillips (#6584) stopped a black Chrysler 300 for exceeding the posted speed limit of 45 miles per hour on northbound Route 5 at Shlagel Road, Waldorf, Charles County. Contact was made with the driver who was identified as
Marcus Balil Stokes, 33, from Suitland
. While Trooper Phillips was speaking with Stokes, he detected a strong odor of marijuana emitting from the vehicle. A probable cause search of the driver and vehicle revealed a plastic K-Pac bag containing marijuana, and 3 smaller size Ziploc bags containing marijuana with the total weight of 112.5 grams. Stokes was placed under arrest and transported to the Charles County Detention Center for processing. Stokes was charged with Possession with the Intent to Distribute. 18MSP001285.
For the current list of crime solvers cases in southern Maryland, see so.md/mostwanted
Disclaimer: In the U.S.A., all persons accused of a crime by the State are presumed to be innocent until proven guilty in a court of law. See: so.md/presumed-innocence. Additionally, all of the information provided above is solely from the perspective of the respective law enforcement agency and does not provide any direct input from the accused or persons otherwise mentioned. You can find additional information about the case by searching the Maryland Judiciary Case Search Database using the accused's name and date of birth. The database is online at so.md/mdcasesearch . Persons named who have been found innocent or not guilty of all charges in the respective case, and/or have had the case ordered expunged by the court can have their name, age, and city redacted by following the process defined at so.md/expungeme.