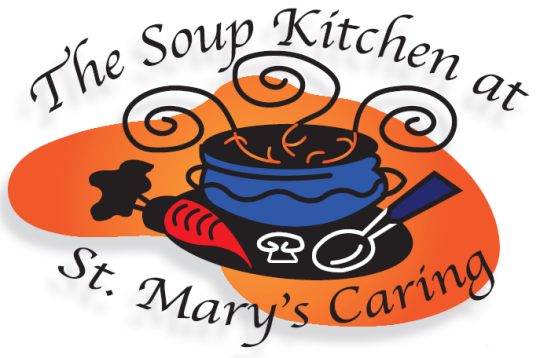 HOLLYWOOD, Md.
(December 21, 2017)—St. Mary's Caring's soup kitchen in Lexington Park has served 37,851 meals so far this year, about 6,000 more than last year; it's all part of the mission there, which has been to help the needy for years.
"The best thing about this soup kitchen is that whoever comes through those doors gets fed," said Kristine Millen, director at the soup kitchen. "We don't check on social security or anything like that."
Millen said the kitchen is almost sure to surpass 38,000 meals served by the end of the year.
Serving breakfast and lunch six times a week is a daunting task, she said, as the soup kitchen on Langley Road only receives about $3,000 a year in funding from the county as a non-profit service entity with the rest of its operating funds coming in through donations.
People never seem to stop coming in for food, Millen said, and the amount of work volunteers do to make the kitchen function helps keep everyone busy.
Still she finds that many still want to volunteer at the soup kitchen to help those in need.
Deb Fallen, retired from the county public school system, said the soup kitchen helped her to share the blessings she has received.
"It's always good to give back," Fallen said. "You have to live your faith."
Donations of food, such as a very large one that Soup Kitchen Makes Sure No One Goes Hungry came in on Wednesday after the soup kitchen was "slammed" with clients also require time and effort to bring in and store.
But it's just those sort of donations, many coming from local grocery stores with excess bread or bakery goods, that keep the soup kitchen able to fulfill its mission.
"It's incredible that these businesses do this," Fallen said. "All just so food doesn't go to waste."
The soup kitchen sees all sorts of people coming in for help including from Calvert and Charles counties, Millen said.
"Some people have walked and hitchhiked just to come down here to get a meal," according to Millen.
She credits the steep increase in meals served with the addition of 10 more families to their programs, which helps to feed children through the summer months when they no longer have access to free and reduced meals at school.
Millen said principals from Title I schools Lexington Park, Park Hall and George Washington Carver elementary schools, pick families to take part in the program.
St. Mary's Caring delivers to those families groceries and staples; the families are anonymous to the volunteers.
"They are the neediest of the needy," Millen told The County Times. "These are children who probably won't eat more than four to six times a week without assistance."
Throughout the summer St. Mary's Caring helped 176 people through their Feed the Families program, 129 of whom were children.
"We see new faces everyday," Millen said. "St. Mary's Caring is a safety net for so many people."
Of those new faces, some had never expected to need the soup kitchen's services, Millen said, but that was exactly why the volunteers worked hard to keep it an inviting and supportive place.
"It's a safe place for people here," Millen said. "It's a beautiful atmosphere here."
For more information, including how to donate, please visit
stmaryscaring.org/
For more local stories from the County Times newspapers, visit ct.somd.com or find a copy on local news stands.