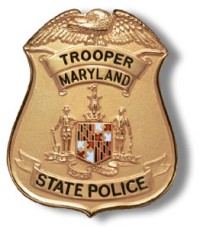 PRINCE FREDERICK, Md.
(December 4, 2017)—The Prince Frederick Barrack of the Maryland State Police (MSP) today released the following incident and arrest reports.
DISORDERLY CONDUCT, RESISTING ARREST: On 11/27/2017 at 8:45 pm, Trooper First Class Costello, Trooper Keyser and Trooper Backus responded to a residence in the 2100 block of Chaneyville Rd. for an attempt to locate a wanted subject to serve an arrest warrant. The wanted subject was located, was cooperative and was placed under arrest. At that time
Joseph R. Harrison, 51, of Owings
, was walking towards the residence and became aggressive towards the officers while they were placing the arrested subject into the vehicle for transport. After numerous verbal commands to stay back and stop, Harrison continued to cause disruption. He was placed under arrest for disorderly conduct and resisting arrest. Both subjects were incarcerated in the Calvert County Detention Center.
POSSESSION OF BUPRENORPHINE: On 11/28/2017 at 9:38, Trooper Backus responded to the Prince Frederick Walmart Parking Lot for a report of CDS activity being observed by an off-duty officer. A strong odor of marijuana was emitting from inside the vehicle where the activity was observed.
Kasey L. Cunningham, 33, of Prince Frederick
, was arrested for possession of Buprenorphine for which she did not have a prescription. Cunningham was incarcerated in the Calvert County Detention Center.
THEFT: On 11/30/2017 at 8:43 am, Trooper First Class Harrod responded to the 1700 block of Goah Way in Sunderland for a reported theft. The victim reported a Christmas tree, a Candy Cane decoration and an extension cord were all removed from the front porch of the residence. Investigation continues.
TELEPHONE MISUSE/HARASSMENT: On 12/1/2017 at 10:00 am, Trooper First Class Matthews received a report of telephone misuse and harassment complaint for a residence in Sunderland. The victim reported receiving threatening messages and repeated text and calls from a relative for over a month.
Toni M. Bell, 49, of Sunderlan
d, was contacted by law enforcement and told to stop texting and calling the victim. Bell continued to leave threatening messages and sending repeated texts. An application for Charges requesting Bell be charged on a Criminal Summons has been completed.
POSSESSION OF COCAINE: On 12/3/2017 at 2:06 am, Trooper First Class Costello stopped a vehicle on Rt. 4 near Fox Run Blvd. in Prince Frederick for traffic violations. A K-9 scan was requested and resulted in a positive alert.
Sean A. Edmunds, 46, of Dunkirk
, was found to be in possession of cocaine. He was arrested and incarcerated in the Calvert County Detention Center.
DUI ARREST:
Taylor N. Davis, 26, of Clements
, was arrested on 12/02/2017 @ 11:36 pm by TPR. R. Backus.
For the current list of crime solvers cases in southern Maryland, see so.md/mostwanted
Disclaimer: In the U.S.A., all persons accused of a crime by the State are presumed to be innocent until proven guilty in a court of law. See: so.md/presumed-innocence. Additionally, all of the information provided above is solely from the perspective of the respective law enforcement agency and does not provide any direct input from the accused or persons otherwise mentioned. You can find additional information about the case by searching the Maryland Judiciary Case Search Database using the accused's name and date of birth. The database is online at so.md/mdcasesearch . Persons named who have been found innocent or not guilty of all charges in the respective case, and/or have had the case ordered expunged by the court can have their name, age, and city redacted by following the process defined at so.md/expungeme.