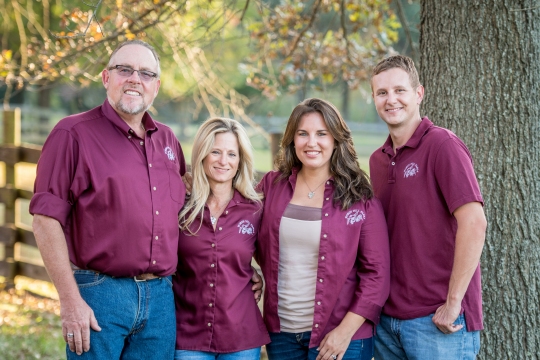 From left: Bob White (Partner & Winemaker), Susan Watson White (Owner Operator), Shelby Watson-Hampton (Partner & Marketing Director), and Wade B. Hampton II (Partner & Vineyard Manager). (Photo: Edwin Remsberg)
BRANDYWINE, Md.
(Sept. 20, 2017)—The Robin Hill Farm and Vineyards family is about to introduce their new winery and tasting room to the southern Maryland community. The grand opening celebration is set for Saturday, October 7, in the farm's historic tobacco barn's newly renovated tasting room, located at 15800 Croom Road in Brandywine.
"We take great pride in growing quality fruit and making premium wines," said Susan Watson-White, farm owner. "After many years of planning and preparing, we're excited to take this next step by opening our tasting room doors to the public."
The celebration will begin with a ribbon cutting ceremony at noon, and continue throughout the day with live music, food trucks, wine tastings, and sales by the glass or bottle, until festivities come to a close at 6:00 pm. Robin Hill Farm and Vineyards will host regular tasting room hours on Saturdays from 11:00 am–5:00 pm, beginning October 14th.
Robin Hill Farm and Vineyards is a small handcrafted farm winery with approximately 1,000 cases produced yearly. The vineyard is currently comprised of 6 different varieties with over 3,000 vines in the ground, and the wines are produced and bottled on the property. The tasting room is decorated to reflect the farms history, and has an expansive wrap around porch that overlooks the dramatic views of the vineyard. The public is invited to visit, sip, and relax while enjoying the picturesque view.
Find out more at
www.robinhillfarmandvineyards.com/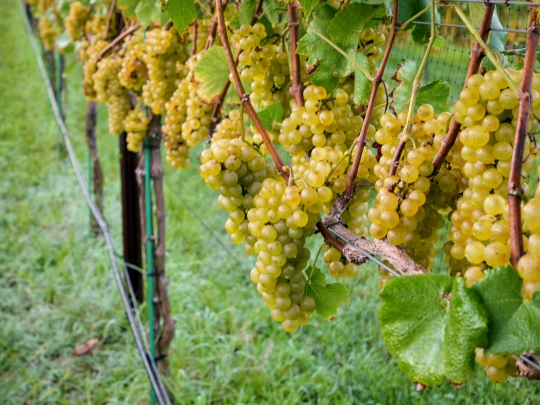 Grapes hang on the vine. (Photo: Robin Hill Farm and Vineyards)