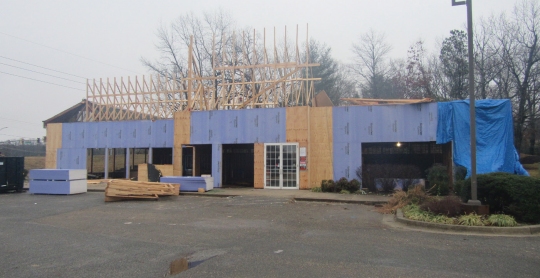 This building has housed several restaurants since first being constructed in 1989. Now it is about to become retail/office space. (Photo: County Times)
HOLLYWOOD, Md.
(Jan. 6, 2017)—It's been a restaurant since the Wildewood Shopping Center first opened in 1989. Not anymore. The former location of DB McMillan's and before that Perkins Family Restaurant and several other iterations is being converted into retail/office space.
According to St. Mary's County Department of Land Use and Growth Management Planner IV Bob Bowles, the former restaurant location is being converted into three store fronts on speculation. He said his department has not been given any indication of tenants in the spaces.
Meanwhile, LUGM is processing an application for a new Dollar General Store at 23848 Mervell Dean Road in Hollywood across from Bruster's. That location is a short distance from the Wildewood Shopping Center Dollar General, which is expected to close when the new stand-alone store opens sometime in 2018.
The new Hollywood Dollar General Store is on the Jan. 12 agenda of the St. Mary's County Technical Evaluation Committee (TEC), a group of agency personnel who review applications prior to being heard by the planning commission. The commission closely scrutinized the new Leonardtown Dollar General store and made some changes to its design and road network.
The new Dollar General in Hollywood will be located on 3.21 acres which currently contains a vacant house and a trailer to the rear of the property. The land owner is listed as Ronald Edward Wood, el al. The engineer for the project is Little Silences Rest, Inc.
Dollar General is continuing its expansion in Southern Maryland. A new store is expected to open soon in Great Mills and another is planned for St. Leonard. They have more than 12,000 store locations.
The soon-to-be-vacated space in the Wildewood Shopping Center is right in the middle of a section that under a former owner was slated for renovation to accommodate larger stores. However, Bowles said that plan is dormant and his office has nothing before it regarding a renovation.
A call into the shopping center's current owners, Scheer Partners of Rockville, as to their future plans was not returned as of press deadline. The center recently underwent a significant renovation in another area to accommodate a new Bed, Bath and Beyond and DSW shoe store.
For more local news stories from the County Times newspapers online, visit ct.somd.com/