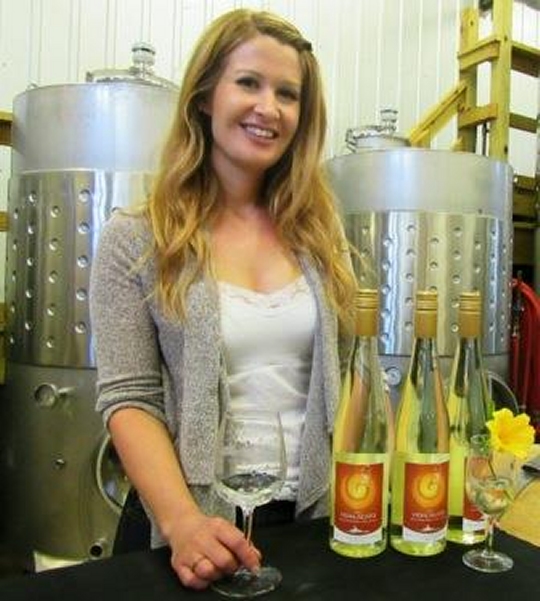 Lauren Zimmerman, the new chief winemaker, poses with Vidalacato, her first release. (photo: Port of Leonardtown web site)
HOLLYWOOD, Md.
—Lauren Zimmerman has only been working as the chief wine maker at the Port of Leonardtown Winery for a year but her products have already won two awards for excellence last month in Baltimore, winning two gold medals for distinct wines she made at the Governor's Cup competition.
She credited the local growers, who are part of a cooperative that feeds grapes to the winery, with providing the best raw materials to make great wines.
"The growers have really grasped how to grow grapes in Southern Maryland," Zimmerman, 30, said. "They grow superb grapes."
And Zimmerman knows what she is talking about.
She has grown up around wine, grape growing and wine making since she was a child in Ontario, Canada.
She remembers her mother making homemade wine and when she was young she worked in the field tending grapes, gaining an appreciation for the first half of the process of making wine.
When she went on to college she studied wine-making, viticulture and the sale and marketing of the product.
"I remember taking little sips as a kid," Zimmerman said. "But in college that was when I really appreciated drinking wine."
Since graduating she has worked at six different wineries in North America and has even worked at a large winery in New Zealand before settling in Southern Maryland.
Her job is a delicate one, since she has to balance the art of growing grapes and wine making with the science it takes to make it perfect every time.
And she is now the one solely responsible for all the wines coming out of the Port of Leonardtown and she has 25 types of grapes to work with.
The winery currently produces 20 different kinds of wine and Zimmerman has to pay constant attention to both the growing of the fruit and its processing to ensure the quality of the product.
Three things underpin her work, testing for the sugar content of the grapes, the total acidity and the pH and all that science has to be combined into a wine that, as its final test, has to taste good.
That is a key element to her job, she said.
"It takes an educated palette," Zimmerman said. "Our portfolio is so broad we have something for everybody."
At the Port of Leonardtown she uses a crushing machine to extract all the juice from grapes at the rate of about 2,000 pounds of fruit at a time.
This produces about 160 gallons of juice that must go through the fermentation process to eventually become wine.
Sometimes the juice goes into huge stainless steel vats or into simple wooden barrels to age.
But the crucial first step in the wine making process starts with the grapes themselves, she said.
"We have to watch for the time when they reach their peak of ripeness," Zimmerman said.
"That can be as small as a 24-hour window.
"One day before and they're under-ripe, one day after and they are over-ripe."
It's that attention to detail that has led to the local winery's burgeoning success in a relatively short period of time.
She praised the local growers for their hard work in tending their vines to provide just the right amount of sunlight and pruning them to get just the right size of clusters to produce the best grapes possible.
"I have to work constantly with the growers," Zimmerman said. "Timing is crucial for making premium wines."
Rich Fuller, one of the grape growers in St. Mary's feeding fruit into the winery, said that it would have been difficult to lure Zimmerman here from a larger winery, but since she was already here they were happy to have her experience.
"She's risen to the challenge," Fuller said. "She did a great job [by winning two gold medals].
"We're very lucky to have her."
The Leonardtown winery project, when it started as a just a concept more than a decade ago, was seen as a way to help keep the county agriculturally viable in the wake of the tobacco buyout that had many farmers agree to stop growing the plant.
"The county also benefits two ways, since it helps with tourism," Fuller said of the winery. "It gives people another reason to come down here for a day trip."
Despite the relatively small size of the Port of Leonardtown's operations, Zimmerman said she's happy to work in a small setting after having worked in a much larger setting.
"I like the boutique touch," she said.
For more local stories from the County Times newspapers, visit ct.somd.com