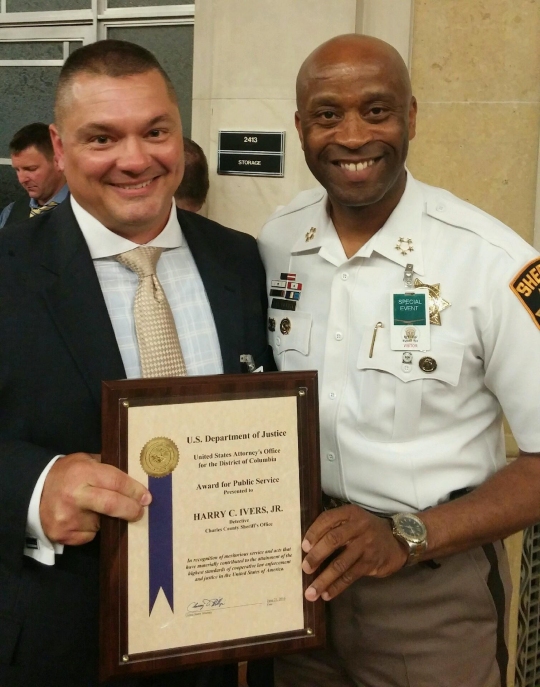 Charles County Sgt. Harry Ivers and Sheriff Troy D. Berry.
Officer Receives Award from Department of Justice
Charles County Sheriff Troy D. Berry is proud to recognize Sgt. Harry Ivers, a staff trainer at the Southern Maryland Criminal Justice Academy and former narcotics detective, who received an award on June 21 at the 34th Law Enforcement Awards Ceremony hosted by the U.S. Department of Justice. Sgt. Ivers helped investigate a major narcotics case that led to the arrest of narcotics dealer, Raymond Proctor, and his co-conspirator, former MPD detective Stephanie Ellison.
Proctor had a wide customer base throughout the metropolitan area. During the two-year investigation, he sold heroin to undercover officers on numerous occasions throughout Washington, D.C. and Charles County. Ellison laundered money and purchased vehicles used to conduct their drug trade.
Proctor pled guilty to conspiracy to distribute and possession with intent to distribute 100 grams or more of heroin and conspiracy to launder monetary instruments. He was sentenced to 63 months incarceration. Ellison pled guilty to conspiracy to launder monetary instruments. She was sentenced to 15 months incarceration.
"Anytime a drug dealer is arrested, our community becomes a safer place," Sheriff Berry said. "We are thankful for Sgt. Ivers and the rest of these hard-working officers and agents for their tireless dedication to ridding our communities of these dangerous drugs."
Ivers was nominated for this award by Assistant U.S. Attorney Karla-Dee Clark and Assistant U.S. Attorney Zia M. Faruqui. Six other law enforcement agents and officers also worked with Ivers to investigate the case.
Accreditation Assessment Team Invites Public Comment
A team of assessors from the Commission on Accreditation for Law Enforcement Agencies (CALEA) will arrive August 1 to examine all aspects of the Charles County Sheriff's Office policies and procedures, management, operations and support services as part of the Agency's continued efforts to maintain its accreditation. The Sheriff's Office is seeking its 6th re-accreditation.
"The purpose of this visit by the team of assessors is to confirm the Charles County Sheriff's Office continues to meet the commission's standards and is part of a voluntary process to maintain CALEA accreditation," said Sheriff Troy D. Berry.
During the on-site assessment, Agency employees and members of the community are invited to comment at a public information session Monday, August 1 at 7 p.m. The session will be conducted in the training classroom located at the Charles County Sheriff's Headquarters, 6915 Crain Highway, La Plata, MD.
Any person who cannot speak at the public information session but would still like to provide comments to the assessment team may do so by telephone. Calls will be taken by the assessment team at 301-609-6517 on Tuesday, August 2 between 2 p.m. and 4 p.m.
Telephone comments as well as appearances at the public information session are limited to 10 minutes and must address the Agency's ability to comply with CALEA standards. The CALEA standards are available for review from the office of Planning and Accreditation at the Sheriff's Office Headquarters, located at 6915 Crain Highway in La Plata. The Planning and Accreditation Office may be contacted at 301-609-6419.
Anyone wishing to offer written comments about the Charles County Sheriff's Office's ability to meet the standards for accreditation may write to John Gregory, Regional Program Manager, at the Commission on Accreditation for Law Enforcement Agencies, Inc. 13575 Heathcote Blvd. Suite 320 Gainesville, VA 20155.
"CALEA assessors are law enforcement professionals from agencies located some distance away in order to maintain the objectivity of the assessment process," said Danny Johnson, the Agency's Deputy Director of Planning and Accreditation.
The assessors this year are Major Paul Baggett, Polk County Sheriff's Office, Lakeland, Florida, and Lt. Virgil Hubbard, Knoxville Police Department, Knoxville, Tennessee. They will review written materials, interview individuals, and visit offices and other places where compliance with CALEA standards can be verified. Once the Commission's assessors complete their review of the Agency, they report to the full Commission, which will then decide if the Agency is to be re-accredited.
Accreditation is for three years, during which the agency must submit annual reports affirming continued compliance with those standards under which it was accredited. For more information regarding CALEA, call 800-368-3757 or 703-352-4225 or visit www.calea.org.
CCSO Invites Charles County Residents to National Night Out
Police and Neighbors Come Together for Annual Community Event
Attention all neighborhoods: On August 2, 2016, from 6 p.m. to 10 p.m., neighborhoods throughout Charles County are invited to team up with thousands of communities across the country for the 33rd Annual National Night Out (NNO). Sheriff Troy Berry and members of the CCSO will join residents to celebrate the community's alliance against crime, drugs and violence. Representatives from Charles County Crime Solvers, Explorers Post #1658 and even McGruff the Crime Dog and McGruff's nephew Scruff will be on hand to meet residents.
The National Association of Town Watch (NATW) launched National Night Out 33 years ago. According to the website, NATW.org, "National Night Out enhances the relationship between neighbors and law enforcement while bringing back a true sense of community. It furthermore provides an opportunity to bring police and neighbors together."
Neighborhoods across Charles County will host block parties with food, games, music, and other activities. Many residents will light their porch lights to demonstrate their support for NNO. "National Night Out is a fantastic community event which aids in our mission to continue to build on the great relationship we have with the citizens of Charles County. Residents can not only come out and meet their neighbors, but also meet the officers that serve in their neighborhoods," said Sheriff Berry. "This is a great opportunity for citizens and law enforcement to build camaraderie and together take a stand against crime."
The CCSO is also holding its annual coloring contest for children ages 4-12 in participating neighborhoods. Neighborhood representatives will be provided with the coloring pages after their neighborhoods are registered for National Night Out. The coloring pages can then be distributed to the children in their particular communities. The artwork is due by August 29th and can be turned in to any CCSO district station or to the Community Services office located on Audie Lane in La Plata. The pages are judged, and two winners will be selected from several age groups. The winners will be notified by mail, and awards will be presented in October.
For over 20 years, the National Association of Town Watch has recognized Charles County's participation by awarding the agency its Category II Award for Community Participation. Last year, 158 neighborhoods in Charles County participated in National Night Out.
To find out if your neighborhood is participating, to register your neighborhood to participate, or to make a donation to NNO, contact Community Organizer Connie Gray at 301-932-3080.
A Torch Run, A Challenge, and Special Olympics Maryland
The Charles County Sheriff's Office is pleased to announce that additional contributions will be made to Special Olympics Maryland. In the spirit of giving back and making a difference in people's lives, Mr. Phil Hinkle, Chief of Staff of the Charles County Sheriff's Office, announced a challenge to everyone participating in the June 9 Law Enforcement Torch Run for Special Olympics: Phil would donate $1 to Special Olympics for each and every person who made it to the finish line before he did. He challenged the Charles County Correctional Officers Association and the Charles County Fraternal Order of Police to match his donation, even after being told there were hundreds of runners, including nearly 100 Marines from the Indian Head base. With a time of 8:05 per mile, for a total of 3.53 miles, 39 people were steps ahead and made it to the finish line before Phil. Most importantly, after increasing his personal donation, and with contributions from the CCCOA, the FOP, and Deputy Director Brandon Foster of the Charles County Detention Center, more than $300 extra is going to Special Olympics Maryland.
Two CCSO K9 Officers and Partners Graduate Training Program
On Friday, June 10, the Charles County Sheriff's Office K9 unit celebrated the graduation of two K9 officers and their partners: PFC Colby Shaw and his partner, Vader, and PFC Byron Clark and his partner, Dino. Both teams received Patrol Certification and Narcotics Detection Certification.
In order to receive their certifications, the K9 teams had to complete a rigorous 7-month training program under the direction of K9 Trainer, William "Billy" Cotton. "The work of our K9 teams is crucial to the CCSO and to the safety of our community. They do everything from finding missing persons to detecting explosives. We take the responsibility of their training very seriously," said Cotton.
"I'm continually impressed by our K9 Unit and their trainers," said Sheriff Berry. "Completing this program takes a great deal of dedication and discipline, and we are proud to have these teams assisting in our mission to serve and protect Charles County." With the completion of their training, Vader and Dino have now begun their careers in patrol.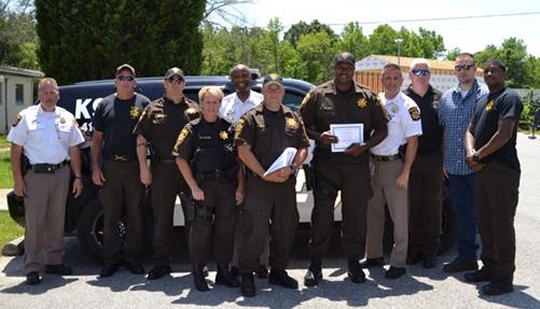 From left to right: Capt. Dan Gimler, Cpl. Sean Brown, Sgt. Haven Smith, Cpl. Renee Cuyler, Sheriff Troy Berry, PFC Colby Shaw, PFC Byron Clark, Maj. Chris Becker, Mr. William Cotton, PFC Darin Behm, and PFC Kevin Makle.