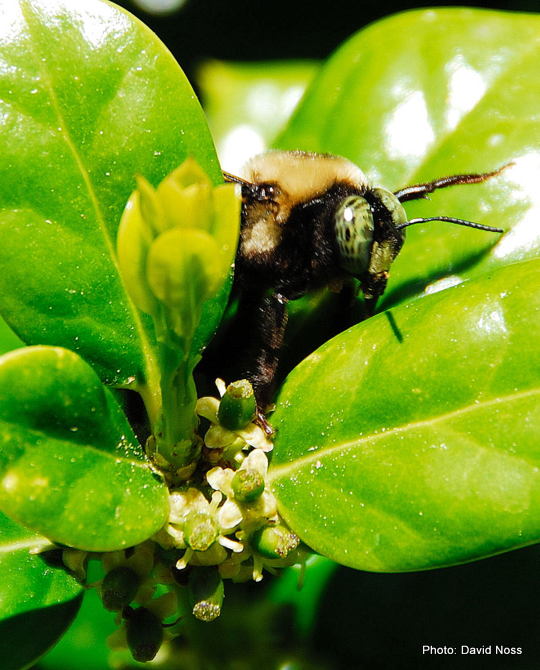 A bee communes with a needlepoint holly in Callaway, Md. in 2006. (Photo: David Noss)
ANNAPOLIS
(April 8, 2016)—Maryland lawmakers this week voted to curb the sale of certain pest control products to home gardeners after reviewing studies that point to the harmful effects some lawn chemicals have on bees and other pollinators.
The legislation prohibits the retail sale and household use of neonicotinoid pesticides, a class of insect repellant that attacks the nervous system and paralyzes pests, beginning in 2018, but commercial uses would still be permitted.
Both the House and Senate versions of the bill passed 99-38 in the House of Delegates at the end of the week. The legislation was contentious, and supporters and opponents each pointed to studies that indicated conflicting effects on bee populations due to the neonicotinoids.
Gov. Larry Hogan is reviewing the legislation, a spokeswoman said Friday.
"Consumers tend to overuse product supplies in retail stores, and making some dent in neonic use by restricting them to certified applicators, farmers and veterinarians is important because those people are better trained to use those products," House bill sponsor Delegate Anne Healey, D-Prince George's, said. "The preponderance of science is huge and it's confirmed in the independent science community."
A Jan. 6 Environmental Protection Agency health assessment of neonicotinoid pesticides, frequently called "neonics," indicated a threat one type of neonic had on honey bee colonies that feast on citrus and cotton crops. (
http://www.epa.gov/pesticides/epa-releases-first-four-preliminary-risk-assessments-insecticides-potentially-harmful
)
Other studies have found that pesticides are devastating the bee population, while some report that bees are unaffected. Still others indicate bee colonies in the U.S. are growing.
The Maryland Department of Agriculture and the National Federation of Independent Businesses opposed the bill. To date the Maryland Department of Agriculture has not documented any cases of neonics negatively impacting honeybees in Maryland and cited a USDA survey that claimed that "no neonicotinoids were found in Maryland pollen samples."
There are about 1,800 beekeepers that keep 14,000 colonies scattered throughout Maryland, according to the Maryland Department of Agriculture.
Pest control companies point to scientific evidence that refutes the correlation between the popularity of insecticide use and the decline of bee colonies.
"With hundreds of studies completed, we know more about neonics and bees than any class of insecticide in use today," Bayer External Communications Manager Jeff Donald wrote in an email. "Although bee health is an important concern, honey bee colonies are not declining and have increased 45 percent globally since the 1960s. U.S. colonies have steadily risen over the past decade, reaching 2.74 million in 2014, the highest level in many years."
Donald cited a 19 percent increase in bee colonies between 2013 and 2014, as reported by the United States Department of Agriculture.
But from April 2014 to April 2015, beekeepers nationwide lost 40 percent of their honey bee colonies, according to survey by the University of Maryland. More than 60 percent of bees in Maryland were lost during that period, the study found.
If Bayer Advanced products are no longer commercially sold, Donald said, gardeners won't be helping the bees, and only hurting themselves.
"Scientists around the world have affirmed the safety of these products to pollinators and consumers when used according to label."
But people not professionally trained in their application—a.k.a. home gardeners—often overuse neonics, sometimes up to 120 times more than the approved product recommendation, one study published by the Xerces Society for Invertebrate Conservation found. (
http://www.xerces.org/wp-content/uploads/2012/03/Are-Neonicotinoids-Killing-Bees_Xerces-Society1.pdf
)
Dr. April Boulton, assistant professor of biology at Hood College in Frederick and a bee expert, testified Jan. 27 in support of the bill. She argued that the state's pollinators are not faring well.
"By curtailing access of the groups least likely to apply the pesticides correctly (i.e., residential consumers) and by taking steps toward decreasing unnecessary exposure to bees (according to the label), Maryland should see a reduction in the harmful impacts of this pesticide class on both its wildlife and insect pollinators," according to Boulton's written testimony.
Smart on Pesticides Maryland, a coalition of businesses, health care providers, farmers and environmentalists, (
http://www.mdpestnet.org/wp-content/uploads/2016/02/BeeFactSheet2.pdf
) said that honey bees and other pollinators fertilize the crops that make up 90 percent of the world's food supply, nearly one out of every three bites of food we eat.
"No bees—no food," Healey said. "We're taking steps to protect our food supply, because we're in an urgent and alarming situation right now."