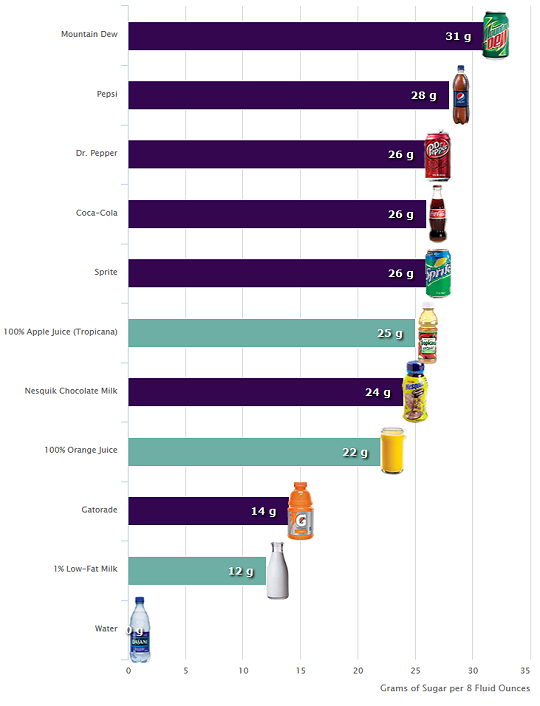 Grams of sugar per 8 fluid ounces of the beverage. Data source: PepsiCo, Calorie Counter, CalorieKing and Wal-Mart. Chart created by Jordan Branch and Taylor Swaak.
ANNAPOLIS
(Feb. 20, 2016)—Following in the footsteps of former New York City Mayor Michael Bloomberg, Maryland lawmakers are looking to ban soda, sports drinks and other sugary beverages from among the choices in restaurants' pre-set kids meal packages.
"All the choices are still on the table but this is the time to level the playing field and make the healthy choice the easy and affordable choice," Sugar Free Kids Maryland Executive Director Robi Rawl said.
Parents can still order soda, but it will be like ordering a side dish, and won't be part of the kids' deal packages. Supporters of the bill hope that by making water, low-fat milk or 100 percent juices the default option, they will cause a "behavioral change" in children.
"The choice that comes with 80 percent of restaurant kids' meals is a soda or a fruit punch, and in those cases families are always welcomed to ask for a healthy drink, but it sometimes costs $2 or $3 more to get a milk," Rawl said. "That's a significant amount of money for a meal that may only cost a couple dollars to begin with—for a lot of families that's really prohibitive."
Soft drinks are the most common kids' meal beverage, offered by 78 percent of top chain restaurants. The next most common drinks are fruit juice, offered by 58 percent, and whole milk, by 43 percent, according to the Center for Science in the Public Interest.
Bill sponsor Sen. Shirley Nathan-Pulliam, D-Baltimore County, is a registered nurse and has worked more than 50 years in the Baltimore area. During her testimony during a Senate hearing Thursday she quoted research from the Centers for Disease Control and Prevention, which found that 32 percent of Maryland children aged 2 to 5 are overweight or obese.
She sponsored the bill with 11 other state senators, all of whom were Democrats.
"This bill does one simple thing, it changes the drink offered as part of the kids' meal," Pulliam said. "This advertising requirement is no different from prohibiting tobacco companies from advertising to children."
The bill resurfaced after dying in a Senate hearing last year. Pulliam said that was because the Maryland Restaurant Association had some problems with the amendments; Rawl said the "political timing was not right."
"Because restaurants must charge extra for beverages other than low-fat milk, bottled water or fruit juice that may be included in the price of a children's meal, this legislation seeks to punish parents by charging them more for what proponents believe to be a bad decision," the Maryland Restaurant Association's Senior Vice President of Government Affairs Melvin Thompson said during the Thursday hearing.
Besides curbing parents' rights to make decisions about their children's diets, the association criticized the bill for suggesting that restaurant children's meals are solely responsible for childhood obesity. Thompson testified that "a lack of physical activity, as children today spend more time online or playing video games and less time engaged in physical activity, has been a significant contributor."
Even though the bill permits restaurants to serve a child a fountain drink, some worry it would relegate too much power to the government.
Chris Boretti, a senior at Archbishop Spalding High School, said he worked the summer of 2014 as a busboy at Pancho n Pepe's Mexican Grill in Crofton. Boretti said it would be "outrageous" for the state to punish restaurants with a $1,000 fine for serving soda on a kids' meal, which is the same punishment as finding sanitation violations, serving uncooked food, or operating with rodents on the premises.
"We are putting a restaurant's choice to serve soft drinks and elevating that to the same violation as having pests in the kitchen environment," the Crofton teen said.
Boretti, one of nine children, said he testified as both a former busboy and someone who eats out at restaurants with siblings who are "picky about kids' meals."
Galway Bay Irish Pub, a family restaurant in Annapolis, does not include drinks on its "Wee Folks Menu" meals, so General Manager Sean Lynch said for his business, the bill would be "a bit redundant." Still he believes it should come down to parents to "steer their children in the right direction."
"Parents have to be the ultimate arbiters of the child's diet," he said. "With allergies being more prevalent you see parents being a lot more active in diets, giving parents more latitude in decision making."
But Sugar Free Kids Maryland isn't convinced that just because parents know which drinks are healthy and which aren't, that they would make the right decision.
"A family could have all the education they need to make the healthy choice, but if they don't have access to healthy choices, they can't make a healthy choice," Rawl said. "With restaurant kids' meals, if a healthy drink choice is not the default option, a family can't choose healthy."