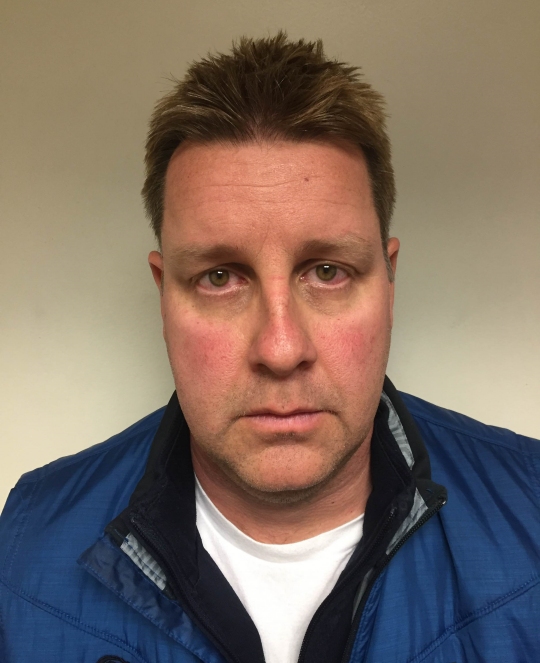 Andre Rudolph Barbins, 45, of the 200 block of Pelagic Lane in Solomons. (Booking Photo)
SOLOMONS, Md.
(Feb. 16, 2016)—Maryland State Police investigators from the Maryland Internet Crimes Section, Maryland Internet Crimes Against Children Task Force (ICAC), arrested a Calvert County man on child pornography related charges this past Friday.
The suspect is identified as Andre Rudolph Barbins, 45, of the 200 block of Pelagic Lane in Solomons, Maryland. Barbins was arrested without incident and charged with one count of child pornography and one count of displaying obscene matter to a minor.
As a result of the investigation a search and seizure warrant was executed at Barbins' residence on February 12th, 2016 by Maryland State Police Computer Crimes investigators, state troopers from the Prince Frederick barrack and agents from the Department of Homeland Security. Barbins was identified by investigators as the focus of the investigation. Execution of the search warrant resulted in the seizure of various digital media storage devices. These items were found to contain images of child pornography. Barbins was transported to the Calvert County Detention Center for processing and awaited a hearing by the District Court Commissioner.
Barbins is the
Head Coach/Aquatics Center Director at St. Mary's College of Maryland
in St. Mary's City, St. Mary's County.
The college issued the following statement today: "The college is taking all steps necessary to protect the safety of its campus and community, and is cooperating fully with law enforcement. Assistant Coach Hattie Schiavone has assumed coaching duties. As with all personnel matters, the college is unable to provide further comment."
The Maryland Internet Crimes Against Children task force is comprised of police agencies from around the state. Its primary mission is to protect children from computer-facilitated sexual exploitation. The task force works cooperatively with law enforcement agencies and prosecutors to provide resources to combat these crimes. Additionally, the task force provides community awareness campaigns helping to prevent the spread of these crimes through education.