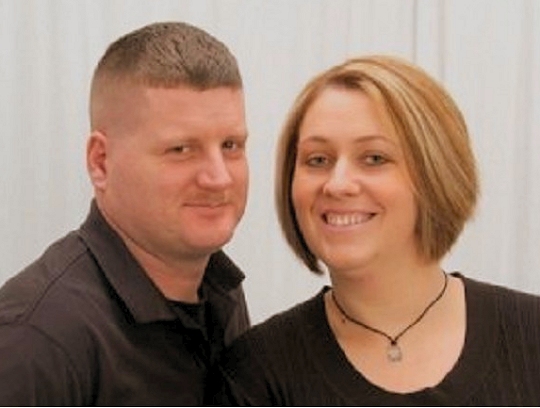 John Kevin Wood, with his wife Melissa. (Photo: Thomas More Law Center)
CALLAWAY, Md.
(Jan. 28, 2016)—
The Thomas More Law Center (TMLC)
yesterday afternoon filed a federal lawsuit on behalf of former Marine, John Kevin Wood, and his wife, Melissa, who "refuse to allow their teenage daughter to be subjected to Islamic indoctrination and propaganda in her high school World History class." The lawsuit was filed against the Charles County Public Schools, the Board of Education, and the Principal, Evelyn Arnold, and Vice-Principal, Shannon Morris, of La Plata High School located in La Plata, Maryland.
Katie O'Malley-Simpson, spokesperson for the Charles County Public Schools, told somd.com that school officials were aware of the lawsuit, but they have yet to be officially served. O'Malley-Simpson said that she was not at liberty to comment further on the case.
The Woods reside in Newburg in Charles County.
TMLC identifies itself as a national public interest law firm based in Ann Arbor, Michigan, which "defends and promotes America's Judeo-Christian heritage and moral values, including the religious freedom of Christians, time-honored family values, and the sanctity of human life."
According to a TMLC press release: The Woods' daughter was forced to profess and to write out the Shahada in worksheets and quizzes. The Shahada is the Islamic Creed, "There is no god but Allah, and Muhammad is the messenger of Allah." For non-Muslims, reciting the statement is sufficient to convert one to Islam. Moreover, the second part of the statement, "Muhammad is the messenger of Allah," signifies the person has accepted Muhammad as their spiritual leader. The teenager was also required to memorize and recite the Five Pillars of Islam.
TMLC identifies the Woods as devout Christians and cited their beliefs as such: "believe that Jesus Christ is the son of God and our Savior, that Jesus Christ died on the cross for our sins, and that following the teachings of Jesus Christ is the only path to eternal salvation. The Woods believe that it is a sin to profess commitment in word or writing to any god other than the Christian God. Thus, they object to their daughter being forced to deny the Christian God and to her high school promoting Islam over other religions."
According to TMLC, when Woods learned of the Islamic subject matter being taught, he immediately contacted the school to voice his objections and to obtain an alternative assignment for his daughter.
Wood maintains that the school ultimately refused to allow the Woods' daughter to opt-out of the assignments and subsequently had a No Trespass order issued against him.
"Defendants forced Wood's daughter to disparage her Christian faith by reciting the Shahada, and acknowledging Mohammed as her spiritual leader," said Richard Thompson, President and Chief Counsel of the Thomas More Law Center, in a prepared statement. "Her World History class spent one day on Christianity and two weeks immersed in Islam. Such discriminatory treatment of Christianity is an unconstitutional promotion of one religion over another."
The plaintiffs filed the following
two exhibits
with their complaint, which appear to show some course materials and a worksheet, presumably completed by the couple's minor child. (Note: document will not display on small screens. Click the link to view on Scribd if your device supports it)
Thompson added, "The course also taught false statements such as 'Allah is the same God worshipped by Christians,' and Islam as a 'religion of peace.' Parents must be ever vigilant to the Islamic indoctrination of their children under the guise of teaching history and multiculturalism. This is happening in public schools across the country. And they must take action to stop it."
TMLC said the Woods' lawsuit seeks a court declaration that Defendants violated their constitutional and statutory rights, a temporary and permanent injunction barring Defendants from endorsing Islam or favoring Islam over Christianity and other religions, and from enforcing the no trespassing order issued against John Kevin Wood.
The
entire complaint
, which was filed in the United States District Court for the District Of Maryland, is included below (except for small screens):