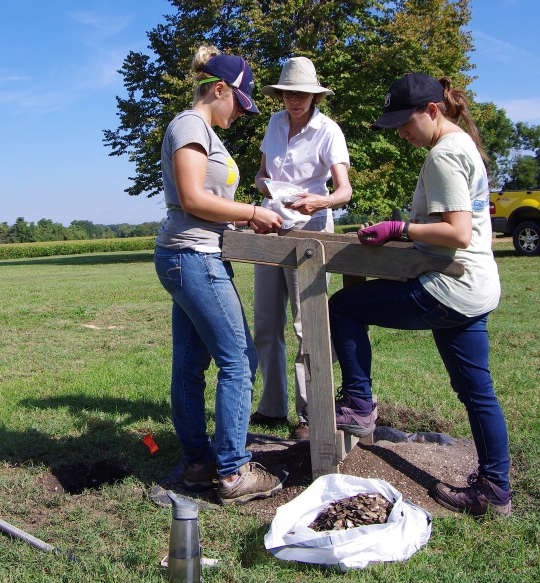 Students Rebecca Webster and Nicolette Coluzzi with Julie King, professor of Anthropology (center). (Submitted photo)
ST. MARY'S CITY, Md.
(January 13, 2015)—St. Mary's College of Maryland in partnership with the Calvert County Historic Preservation Commission recently received funding from the National Park Service's Underrepresented Communities Grant. The College and CCHPC will work with the Piscataway Conoy Tribe to document seven historically significant Piscataway Indian landscapes in Calvert, Charles, Prince George's, and St. Mary's counties.
The Underrepresented Communities Grants are intended to expand the nation's listing of historic places to include sites, structures, and landscapes associated with underrepresented groups and communities. While the Piscataway Indians have called this region their home for centuries, only one significant landscape—the Piscataway capital on Piscataway Creek—has been formally designated a National Historic Landmark. This project will identify additional settlements in an effort to raise awareness of Southern Maryland's rich indigenous history.
Francis Gray, chair of the Piscataway Conoy Tribe, welcomes the work to be done by St. Mary's College and Calvert County. "This is a long overdue effort to record, document, preserve, protect, and raise awareness of our ancestral homeland. These places encompass many locations that represent significant events in Piscataway Conoy history and bring both tremendous joy and solemn tears to our eyes."
St. Mary's College and CCHPC plan to undertake additional research at two important landscapes, including Cecocomoco (near Chaptico) and at Briscoe Gray (near Battle Creek). The work will be led by Calvert County Historic Preservation Specialist Kirsti Uunila, and St. Mary's College Aldom Plansoen Professor of Anthropology Julia A. King.
The project proposed by the College and CCHPC was one of only 11 funded nationwide the by National Park Service's Underrepresented Communities Grant.